By Gráinne McHugo
Every day I spend here in Vietnam as a SERVE volunteer is busy, exciting and full of new experiences. I am learning so much about the lives of local people, the culture of Vietnam and how different and yet similar our lives are around the world.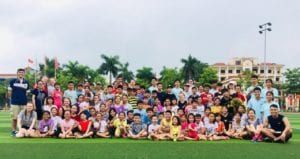 Our day starts at 8.00 when we get up and ready for the short bus journey to the school we teach in. Class begins at 10.15. There are four classes with two volunteers teaching in each and three in one. We are teaching English to around 25 eleven year olds in each class. We are halfway through our second and last week teaching in the school and I have to say that it's been such a nerve wrecking yet rewarding experience. At first I was really nervous for teaching as I have no experience in it and I am generally quite a shy person but the students have been so kind and welcoming and to have my friend and fellow volunteer Kate, a trainee teacher, with me in the class has been so helpful and enjoyable. She has guided me and made me feel so relaxed that now I am so much more confident and teaching the students is not nerve wrecking at all anymore just enjoyable and rewarding. The children are so eager and willing to listen and learn and are very engaged during class. They try their best and we can see over the few days that they want to learn and improve their English.
After class we go home to have lunch and at 2.30pm we start our workshops for the local children. We do sport, drama, music and art. I organise the sport workshop with Carol. It is a great way of getting to know the local people, of being brought into the community more and for the kids to improve their English speaking and understanding. I think that the children really enjoy the workshops and improving their English in a non-formal class setting. They are surrounded by friends and can run around and play games through English. It is a good opportunity, in my opinion, to get children in the community that may not enjoy or want to go to school to learn a small bit of English that may ignite an interest in learning the language for them. I think that would be the ultimate goal in these workshops.
The evening is spent preparing the English classes and the workshops. PowerPoints are made, posters are designed, and games are practised. We are able to gather feedback from each other of what worked and didn't work during the day and tweak our plans accordingly. The work that is put into planning each day by each member of the group is admirable and it's a great feeling to be able to see the improvements students make to know that what we are doing here is benefitting students and hopefully encouraging them to take an interest in learning English.
This experience so far for me has been a series of learning new things, understanding the way people in Vietnam live, living in a new culture and doing our best to help the students in the community. It has been an eye-opening experience and I cannot wait for the next two weeks to see and do more new things. I have enjoyed every moment and am very grateful for the opportunity to be able to do the work we are doing here in Quoc Oai, Vietnam.
https://serve.ie/wp-content/uploads/2018/07/2000px-Flag_of_Vietnam.svg_.png
1333
2000
Serve Solidarity
/wp-content/uploads/2019/11/serve-logo.png
Serve Solidarity
2018-08-01 09:13:07
2018-08-01 09:13:07
A Day in the Life of a SERVE Volunteer in Vietnam