SERVE's work with Young Africa Zimbabwe, Mozambique, and Zambia

An introduction: SERVE & Young Africa  
Young Africa operates skills training centres around Southern Africa that empower thousands of young people towards employability and entrepreneurship.
SERVE has supported Young Africa since 2007 with funding for critical projects and SERVE Volunteering programmes.
SERVE launched the SERVE Development Programme (SDP) in 2018 to support Young Africa in Mozambique and Zimbabwe.
The SDP focuses on specific projects that enhance the lives of vulnerable young people through scholarships, infrastructure, equipment, and educational resources. SDP also offers organisational support through capacity building initiatives. The goal of SDP is for young people in vulnerable communities to have greater resilience and be better able to reach their potential and contribute to society. 
Outside of the SERVE Development Programme, SERVE also supports Young Africa to scale up its operations in Lusaka, Zambia. 
Your donation helps SERVE to continue support Young Africa through the SDP.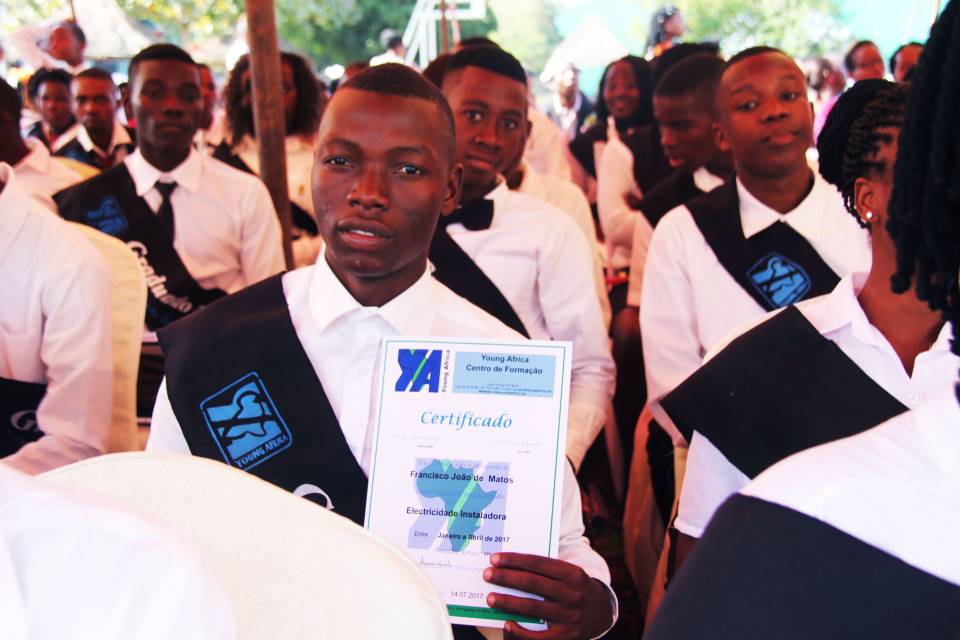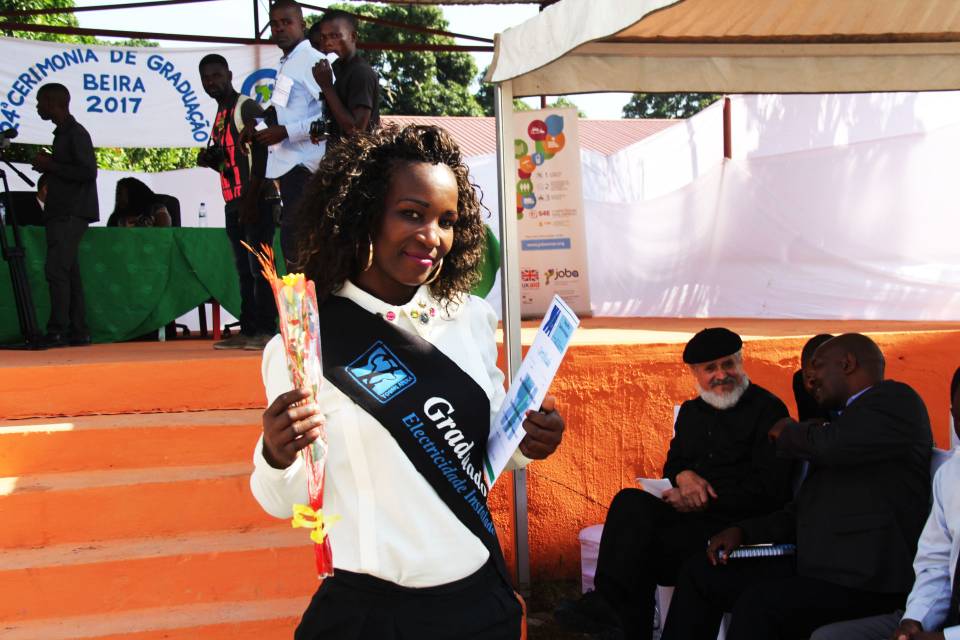 Who are Young Africa? 
Youth unemployment is a major problem in many countries around Africa. Young Africa runs youth empowerment programmes in skill centres in Southern Africa to help educate thousands of young people towards employability and entrepreneurship. Young Africa is a group of independent and locally registered non-government organisations. Each group helps run training centres, youth (self-) employment programmes and community activities. This group of NGOs helps safeguard the vision to support Young Africa's work and expand the reach to more young people across the African continent.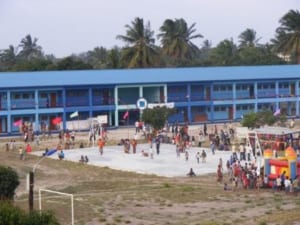 SERVE's Development Programme (SDP)  in Zimbabwe & Mozambique 
The SERVE Development Programme (SDP) is a response to the challenges of youth unemployment and risks to the wellbeing of youth in targeted communities in Zimbabwe, Mozambique and Zambia. SERVE secured €840,000 from Irish Aid to contribute towards this Development Programme. The funds have supported investment in training departments, microcredit, life skills training, entrepreneurship training and staff support. Young people that need assistance from Young Africa (YA), can access the training programmes through the SDP funded scholarship programme. 
The SDP in Young Africa Mozambique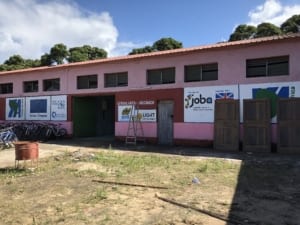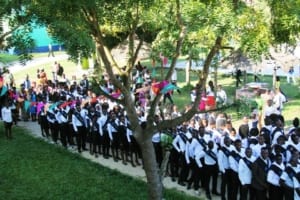 The SERVE Development Programme has benefited over 2700 students in Young Africa Mozambique (YAM) to date. The SDP achieves its objectives in Mozambique despite Cyclone Idai and Cyclone Kenneth in 2019 and COVID-19 restrictions.
At Young Africa Mozambique, graduates can access funds through the micro-credit scheme, assisted by SERVE, to help them to set up their own businesses and lift themselves out of poverty.
SERVE seeks funding in aid of YAM to invest in training departments, maintain access to skills training through scholarships and continue to support graduates start their own businesses.
So far, the SDP has improved: 
Economic resilience by strengthening Technical Vocational Education and Training (TVET) programmes, leading to improved employment and income levels of graduates. 
Emotional resilience and empowerment in those we work with. This is a result of strengthening Young Africa Life Skills programme. 
Higher levels of professionalism and a more sustainable YA model by focusing on capacity building.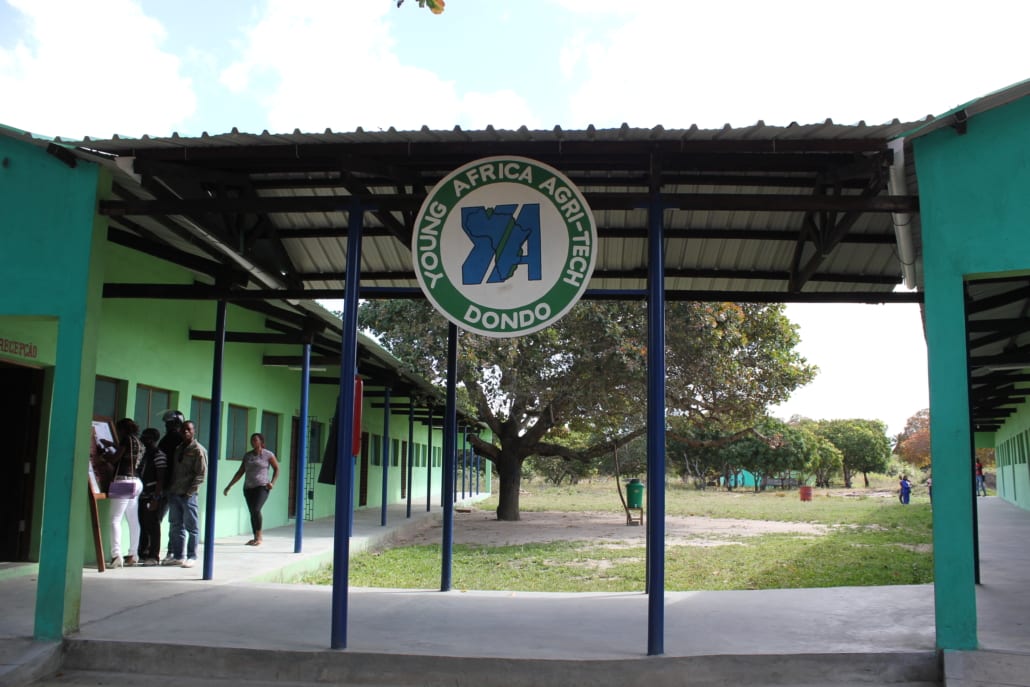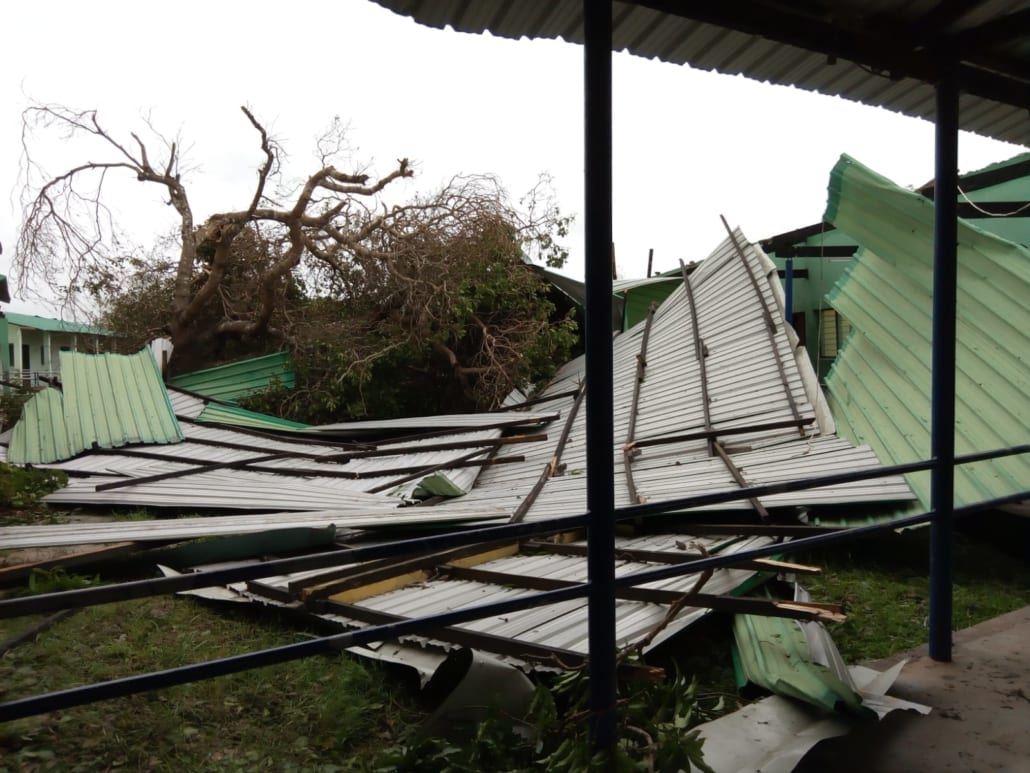 SERVE's response to Young Africa Mozambique through Natural Disasters
The Cyclone caused significant damage to three buildings on the Young Africa Mozambique Beira campus – the Hostel building, the Catering/Restaurant Department, and the Creche.  
Rebuilding began in July 2019 and was completed by late November 2019. The roof of the creche building was badly damaged. SERVE was able to contribute €25,600 to YAM to repair the building. At this time, St. Bridget's Parish based in Northern Ireland stood in solidarity with YAM and made a generous donation too. The creche was reopened and continues to play a key role for mothers who attend training courses and for YAM staff. It is the only creche facility in this community and is greatly valued by parents. 
By December 2019, the Hostel and Catering/Restaurant buildings were rebuilt allowing the Beira campus to return to the pre-Cylcone level of training. SERVE funded the rebuild of the Catering/Restaurant building.
The Agri-Tech campus in Dondo was more exposed to the ferocity of the Cyclone and so the damage was greater. The rebuilding work there is still ongoing and SERVE funding is contributing to the rebuild of a large classroom block that we originally funded in 2010. Unfortunately, the repair work has been delayed due to the Covid-19 pandemic.
Your donation helps SERVE to continue support Young Africa through the SDP.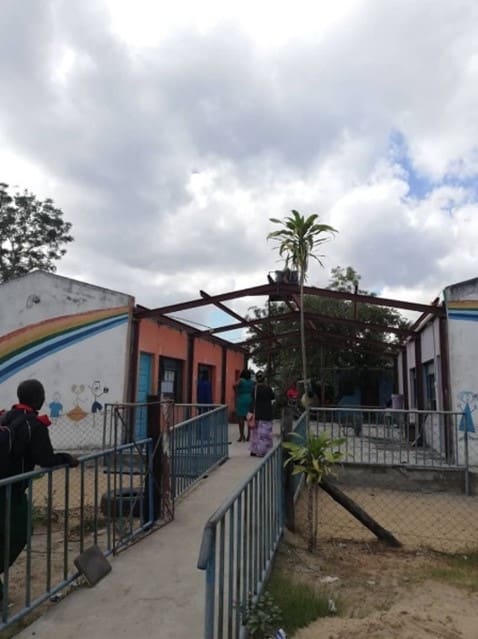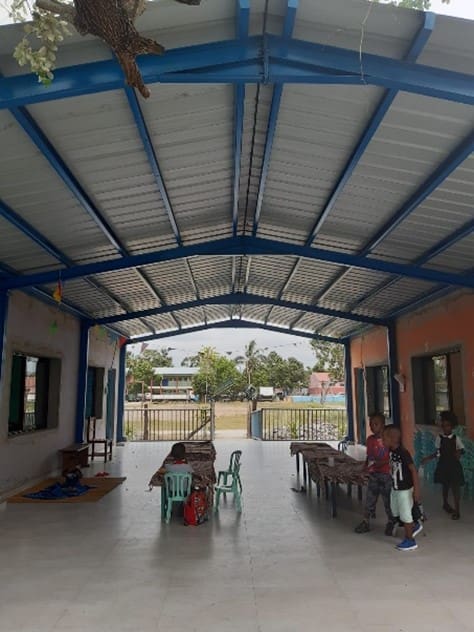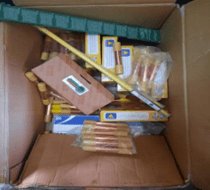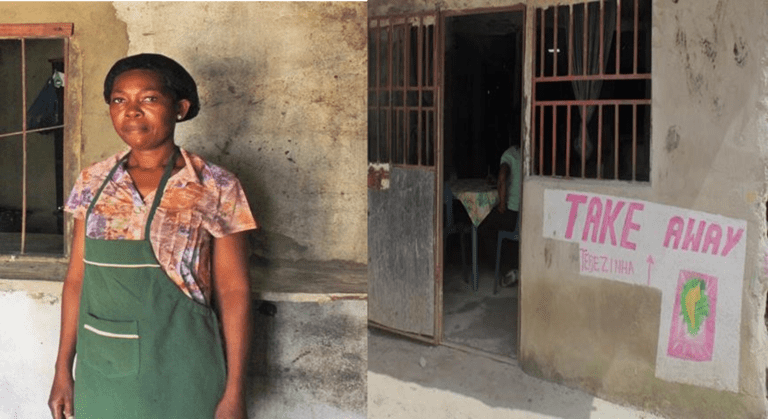 Case Study 1: Terera Joana Tito (Mozambique)
Teresa Joana Tito, lives in Beira, with her husband and young children. Before training at Young Africa Mozambique, she sold fruit and vegetables to satisfy her family's financial needs. However, she did not earn enough to make ends meet. Her husband was also unemployed.
Her dream was always to run her own take-away, Teresa enrolled in the Catering course at the Beira Campus. She attended training from January to June 2018. During the training, she received practical and theoretical lessons, entrepreneurship training, and life skills education. 
During the course, she found out about the micro-credit programme, funded by SERVE & Irish Aid. The programme offers graduates the opportunity to receive interest-free loans to start their own businesses. She submitted her business plan (developed with information obtained during entrepreneurship training) and all other documents for review. Her plan was approved.
After a market assessment, she opened her take-away in a busy catchment area close to the local university. With the income she generates through her take-away she can pay for her children's school fees, look after her family's needs and she has also started to rebuild her home following the devastating Cyclone Idai.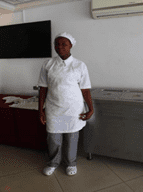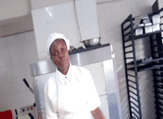 Case Study 2: Ana Maria Reginaldo (Mozambique)

ANA MARIA REGINALDO, 27, resides in Manga, close to the Young Africa campus. She is married with three children. She was aware of Young Africa and decided to enrol after hearing her friend speak highly of the Catering course and the opportunities it afforded her.
Her husband supported her and helped with fees. She enrolled because she wanted to assist with household expenses. She excelled during the training and graduated in December 2018. The Young Africa marketing team secured an internship for her at Hotel Mozambique. Her manager at the hotel was so impressed by her culinary flair and work ethic that after her internship she was offered a permanent job. She is now refining her skills in this reputable hotel but has not abandoned her dream of setting up her own business.
Her life has improved. She noted that she feels fulfilled as she is productive. She can pay her children's school fees, contribute to household expenses, and with savings she has bought land to build her own house. She added that she encourages other young women to enroll and have a bright future.
SDP in Young Africa Zimbabwe
The SERVE Development Programme has benefited over 2,500 students in Young Africa Zimbabwe (YAZ) to date through training programmes at the centre and through outreach programmes in rural areas. The SDP in YAZ has helped the centre roll out new courses and upgrade the equipment in different departments.
We also support the Young Africa HUB based in Zimbabwe in its work of improving and expanding the Young Africa model. This includes placing a Monitoring and Evaluation Officer on a 6-12 month placement to work at the Young Africa HUB.
SERVE  seeks funding in aid of YAZ to invest in childcare facilities for young women attending courses, to further invest in Training Departments and invest in post-graduation support for the students through an Entrepreneurship Hub. 
SERVE's response to Young Africa Zimbabwe through COVID-19
Due to the Covid-19 pandemic, YAZ training centres were closed between March and October. Through SDP, Young Africa responded by rolling out a new Industry Attached training programme that allowed 240 young people to resume training in August 2020.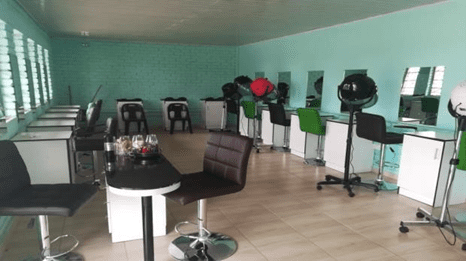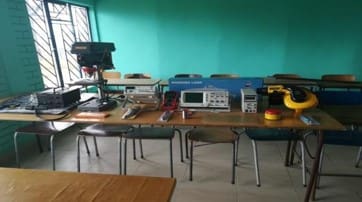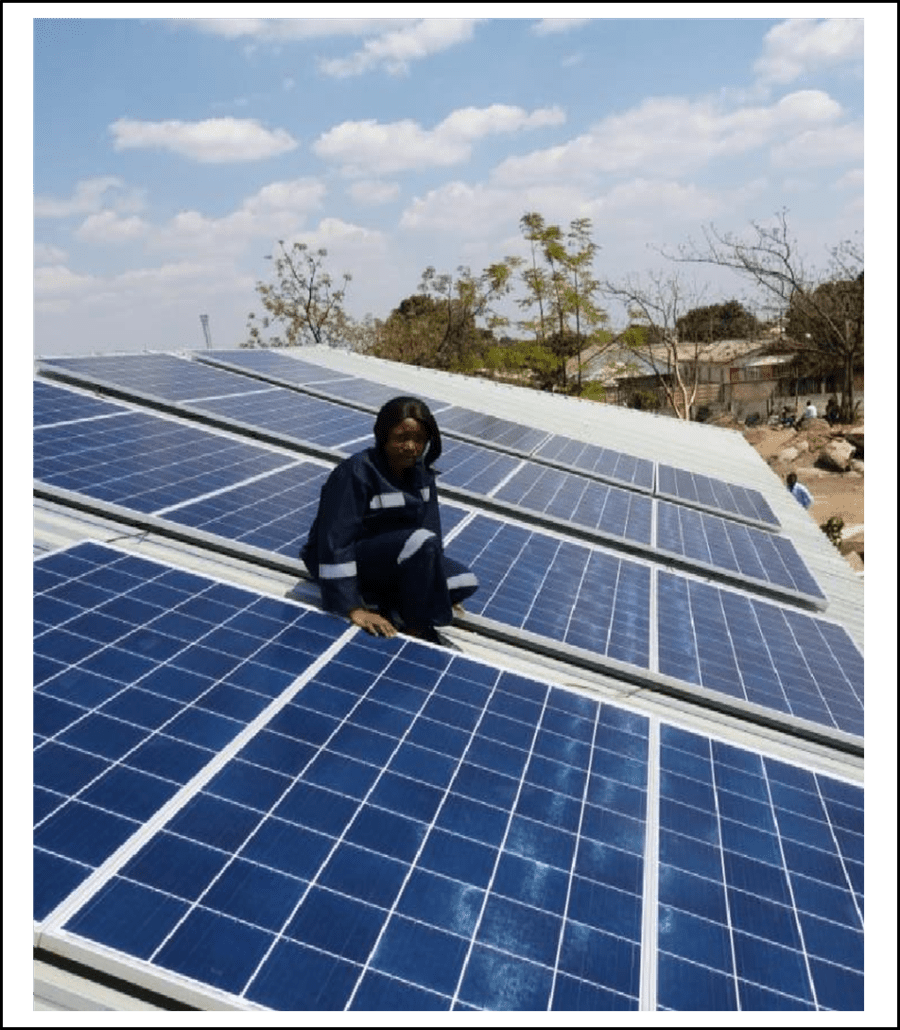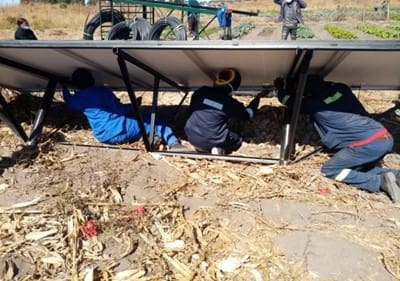 Case Study 3: Shuvai Kuuya (Zimbabwe)

Shuvai Kuuya had completed her Advanced Level in 2017 and wanted to go to university at Bindura University of Science Education (BUSE). However, she was unable to finance her dream.  She then heard about Young Africa from a family friend and contacted them:  
"I then met someone who was from my neighbourhood (…) who told me about Young Africa and that they had a programme that was meant to empower the youth funded by SERVE. I went to Young Africa, and I met with Aunty Tendai and Nyasha who interviewed me. I told them my story and they gave me a list of courses that were on offer. I went back to Mt. Darwin and after a few days I received a text message informing me that I had been selected to study Solar Technology. As they say, the rest is history…" 
During her journey into the workforce, she got help from SERVE and Young Africa at various stages, whether it was applying for internships or paying school fees. Today, Shivai says she has seen great change in her life as she is now financially stable: 
"I am now witnessing a great change in my life, I used to struggle to buy even airtime but now I can afford to recharge my phone, I even send money to my parents when they need to buy something, I try by all means to contribute whenever I can. Even though I do not dress to kill, I am now able to buy myself clothes and do my hair. So, my life has changed a lot. Before lockdown, I also assisted my little sister financially who is still in school. I would give a hand whenever I could when she needed financial assistance".  
Finally, she also mentions that Young Africa helped her in other aspects of her life, and it has given her great confidence: Young Africa provided her skills training that helped with her communication skills: 
"I am now respectful, and I am now able to communicate professionally with clients and colleagues. I feel so motivated. Nothing can stop me from owning my own company in this industry. Soon I will be an entrepreneur and be my own boss".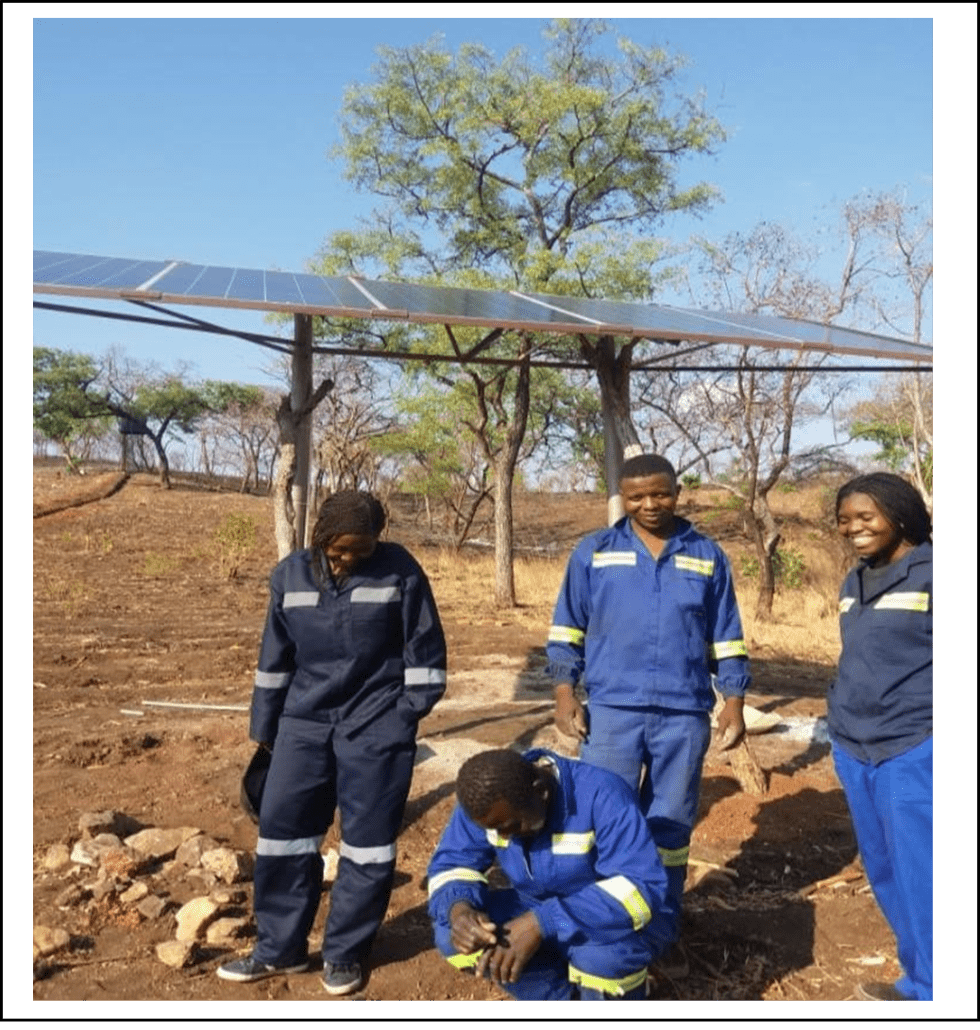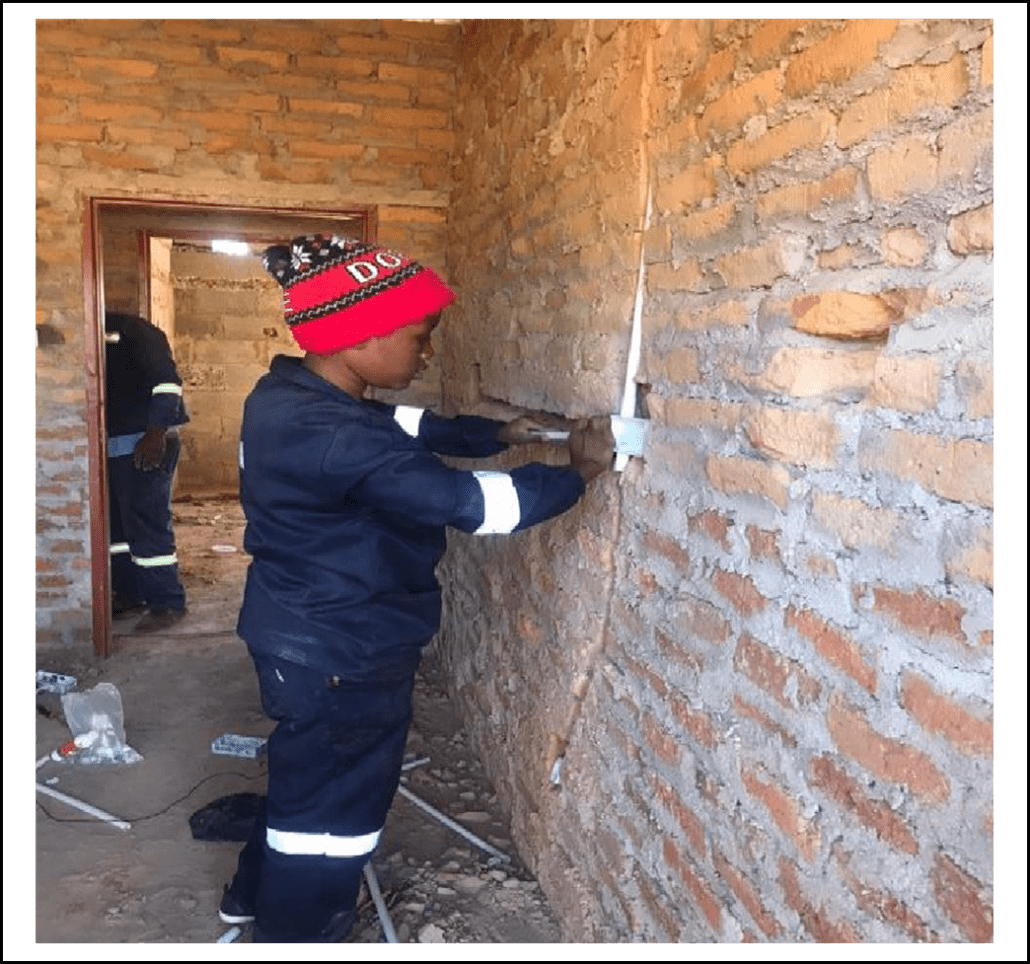 Case Study 4: Prudence Madekufamba (Zimbabwe)
Prudence completed her Ordinary Levels in 2015 and managed to pass 5 subjects. She had previously dropped out of school when she was in Form 2 because she did not have money to pay school fees. When she passed her Ordinary Level, she wanted to proceed to study for her Advanced Level but once again she could not get funding. 
"I was also actively looking for scholarships, but nothing was available. In 2018, a friend told me about Young Africa, that they were enrolling underprivileged girls and assisting them."  
After her interview, in January 2019, she received a text message from Young Africa informing her that she had been accepted to study Solar Technology which was the programme of her choice. As she progressed through her training, her interest in the area sparked even more:  
"I began telling myself that I could actually do this and change my life." 
She started her training in February 2019 to June 2019. When she enrolled at Young Africa, her tuition was paid for by SERVE. SERVE catered for her school fees and when she graduated, she was informed that SERVE had paid $50 (local currency) towards her graduation.  
Prudence started her placement on the 1st of July 2019. She had lectures three times a week and the remaining two days she would have Life Skills training.  
"My training at Young Africa changed my life. Before Young Africa, I was in a hopeless situation, and now I have a job. It is not that much but I am now able to assist my brothers at home financially by paying their school fees. Our life at home has changed a lot because of those basic needs that we could not afford, they can now be covered. If Young Africa had not assisted me, I think because of peer pressure, I would have just told myself that I should get married and escape poverty."
SERVE's work in Young Africa Zambia
SERVE started working in partnership with Young Africa Zambia in 2017 to tackle the challenges faced by young people in Lusaka.
Their goal is to provide high-quality Technical Vocational Educational Training as well as entrepreneurship, life skills, and leadership training to vulnerable youths aged 15-35. Young Africa Zambia conducted this pilot Youth Leadership training for 130 youths to help them develop self-confidence, respect for others, self-discipline, develop problem-solving skills, and empower them to face challenges in everyday life. The pilot was successful and generated a lot of interest with more youths in the area.
SERVE seeks funding to scale up this Youth Leadership training programme which will empower more youths with leadership skills in the future. These workshops are crucial to the development of youth because they do not have access to these types of workshops through their education system.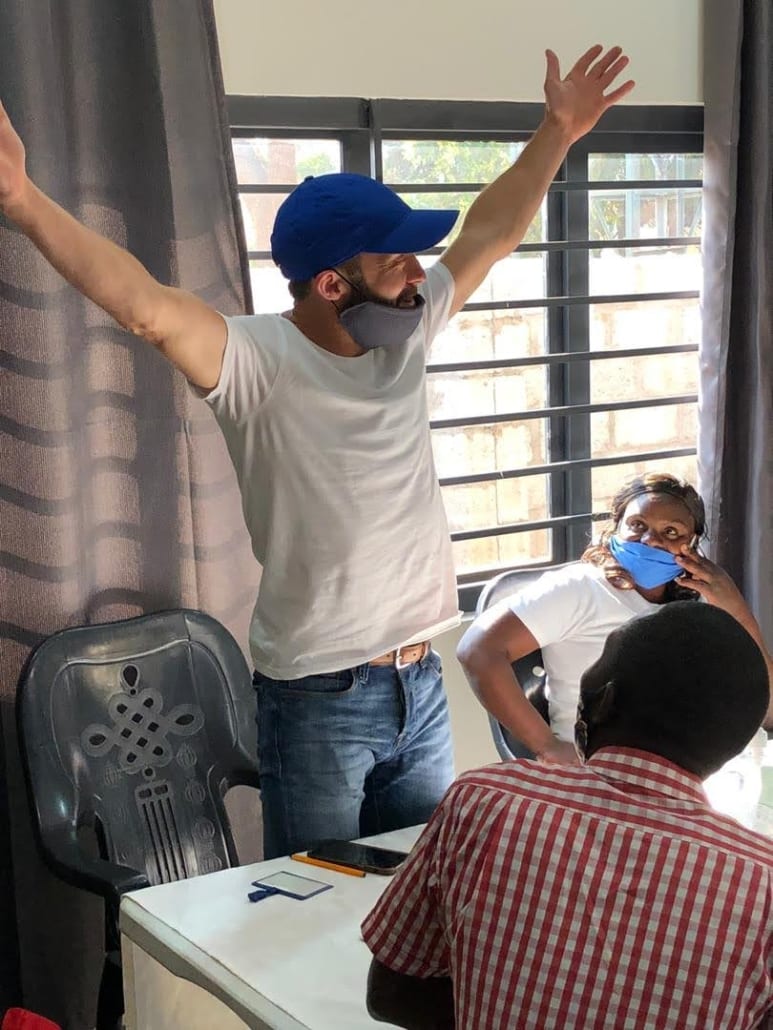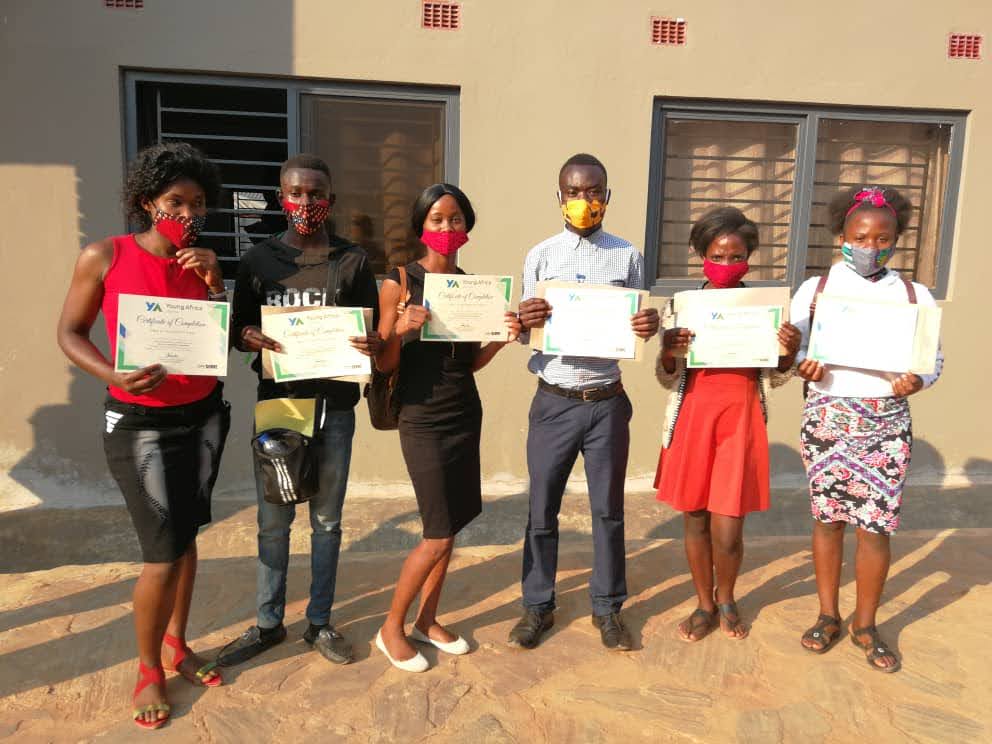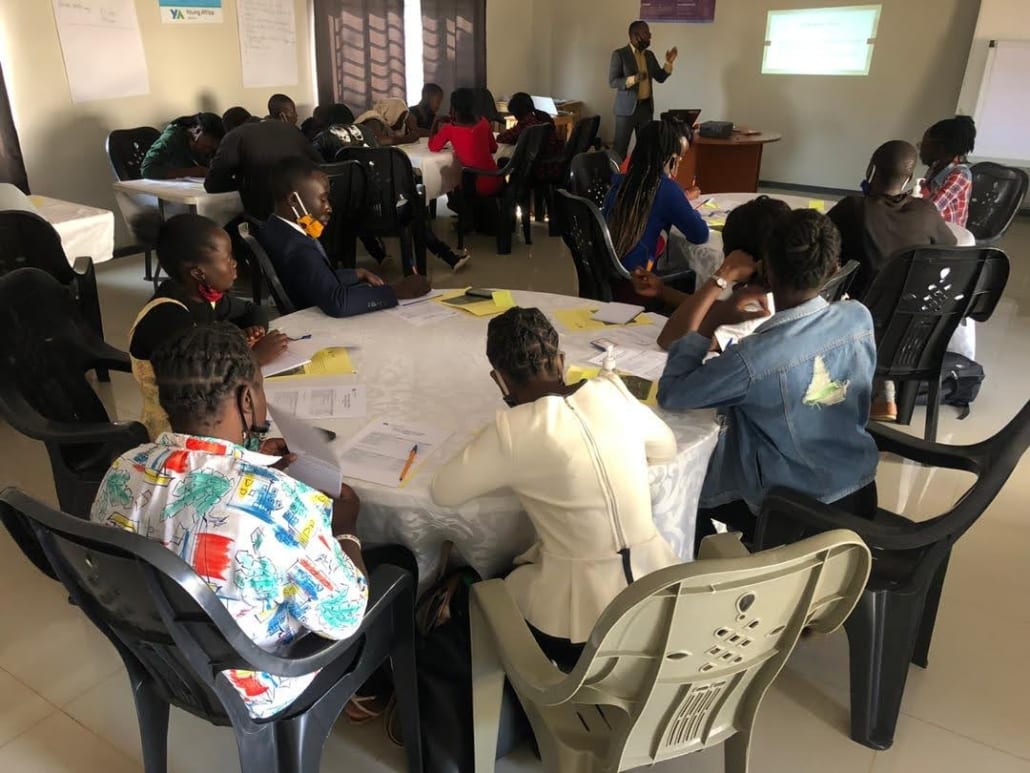 SERVE's response to Young Africa Zambia through Covid-19
Due to the social economic challenges posed by COVID-19, some underprivileged youths at their centre struggled to pay school fees. With support from SERVE, 22 students received support towards their school fees who continued their course without interruption. SERVE also funded a hand washing station at the Young Africa Zambia Training Centre in Bauleni & 'mask up' posters. 
Your donation will help us continue to support the young people in Young Africa Zambia.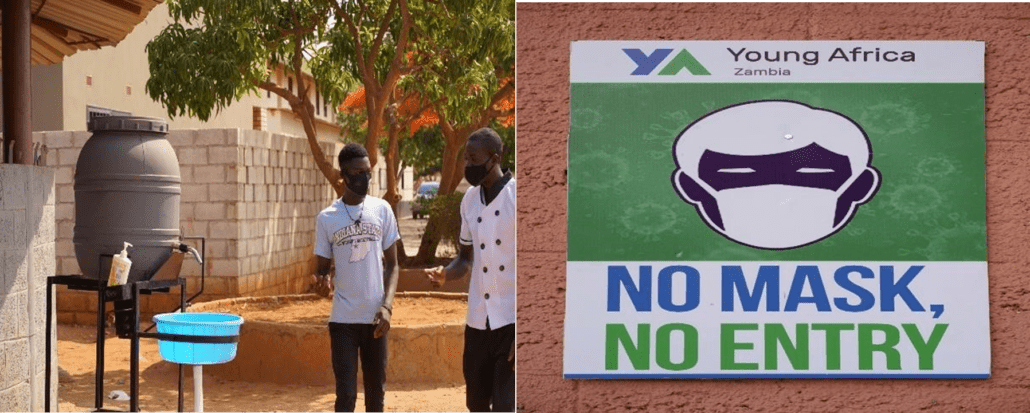 Please join our vision with a one-off donation or pledge a monthly gift and become a regular donor to support SERVE's continued work of supporting and empowering vulnerable youths in Mozambique, Zimbabwe, and Zambia.
2020 and 2021 have been challenging years for all Young Africa centres. They have all been affected by the COVID-19 pandemic, which has worsened poverty levels in their communities. They have shown great resilience and adaptiveness to respond to the immediate needs of communities affected by COVID-19 and continue with their much-needed programmes.
While acknowledging the current crisis, SERVE acknowledges the constraints caused to the entire world by COVID-19. However, young people like those in Zimbabwe, Mozambique and Zambia are significantly affected by the virus outbreak.  Our solidarity reminds us of our responsibility to support them in overcoming the financial and social constraints that they experience due to this pandemic.