Active 30 is a 30-day fundraising campaign through which we hope to raise €3000 to support the operational costs of the Entrepreneurship Hub, which is one of the highlights of the Skills for Youth Resilience Programme 2021-2024 in partnership with Young Africa.
This 30-day challenge is in support of young people who are pursuing their dreams. They have entrepreneurship goals and need all the help they can get to make their dreams a reality. Entrepreneurship in Zimbabwe and Mozambique requires physical, mental, and emotional fortitude. By completing the Active 30 challenge, you show solidarity with them and support their career ambitions.
The goal is to stay physically or mentally active to support the dreams of young people who are committed to overcoming poverty and becoming economically self-sufficient. There is no limit to how and where you can complete these daily challenges. To participate, you need to:
Sign up yourself or your team and setup your fundraising page using our Active 30 JustGiving Campaign.
Select your challenge to keep your mind and body active throughout September.
During the campaign, you/your team will raise a minimum of €100. Every Euro donated to  your efforts will assist the youth in Zimbabwe and Mozambique to overcome poverty through personal resilience.
Note: You can choose any challenge to keep you active, such as hiking, biking, running, swimming, drawing, or doing any other activity that will keep your mind and body active for 30 days in September.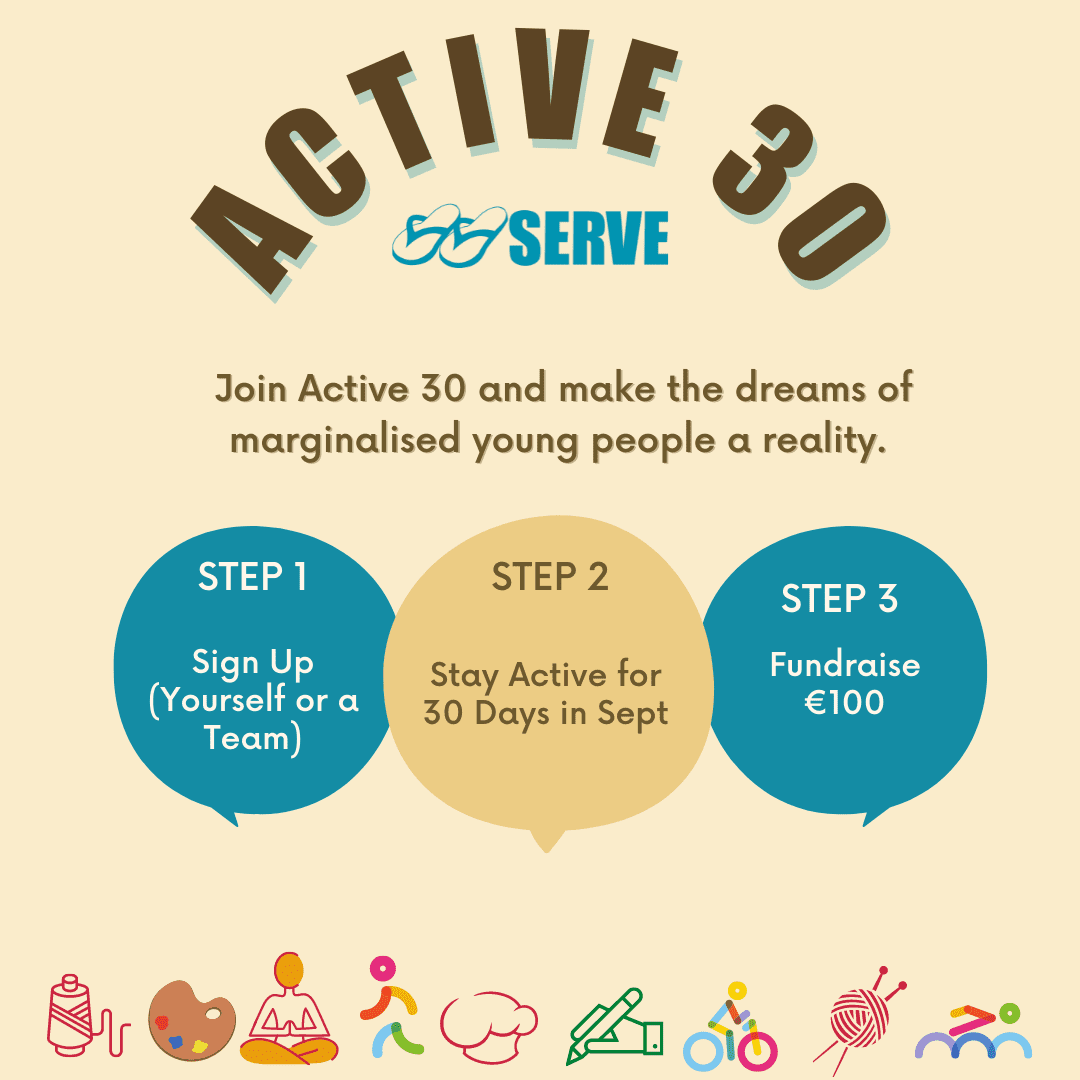 What happens after I sign up?
We will ask you to setup a JustGiving fundraising page for this campaign.
Once you set up a JustGiving fundraising page, we will send you a welcome pack with a SERVE T-shirt & flip-flop pins in the post.
You will also receive a thank you gift for successfully completing the Active 30 challenge!
The funds raised will go towards Young Africa's Entrepreneurship Hub's operational costs. Electricity bills, internet connection, computers, projectors, chairs, tables, and workstations are all part of the operational costs.
Skills for Youth Resilience Programme (SYRP) 2021-2024 supports the youth in vulnerable communities to develop strong personal and social skills to adapt to and cope in the aftermath of adversities. Through this programme, SERVE aims to reduce anxiety and build the emotional resilience of the youth. Learn more.
Sign up to join in on the fun!