PARTNERSHIP PLAN WITH AIDLINK AND THE DIOCESE OF LODWAR TO MEET THE FOOD SECURITY NEEDS OF 3 PARISHES
OVERVIEW
The persistent drought since 2004 is threatening 23 million people in East Africa with severe hunger. The current drought is in 'alarm' stage and is worsening. The normally long pastoral rains (March – May) in Eastern Africa were extremely poor, leading to a substantial harvest failure in marginal cropping areas, a decrease in water availability, deteriorating pasture conditions as well as livestock and livestock productivity losses. Conflict, high food prices and human livestock prices exacerbate the situation. The  number of severely food insecure that require emergency assistance increased by 2 million in Ethiopia, Kenya, Somalia, Uganda and Djibouti from 6,269,000 to 8,398,000 (a 25% increase). The overwhelming majority of newly affected people are said to be in Kenya, (1.2m people).
KENYA
There are currently 2.4 million people in Kenya who require food and non food assistance.  Inflation in Kenya is at 14%, refugees are arriving from Somalia and Ethiopia in their thousands each day and the country is experiencing a severe drought.  The Turkana Area is greatly affected by these issues.  The malnutrition status of children below five years of increased from 23.2% in January 2011 to 28.6% in June 2011.  The Turkana Area needs a strengthened Integrated Food Security Programme to prevent a disastrous outcome.
FOCUS ON TURKANA
The overall project targets the whole of Turkana. This means Turkana North, Central and South Districts. This has been classified according to geographical distribution hence centres are distributed in all the four deaneries
 (The Red Dots indicate target parish locations)
SUPPORTING THE PARISHES OF KATABOI, KALOL, KAERIS
The project is focused on targeting 3 parishes i.e. Kataboi, Kalokol, Kaeris in the Diocese of Lodwar in Turkana. It will involve distributing food to the poor household and also a food for work programme on various projects in the local communities. The food items to be distributed include; Cereals (Maize), Pulses (Beans), Oil (Vegetable oil) and Salt. These food items will be provided at a reasonable ratio of:
–          Maize: 13.5 Kgs per person per a month
–          Beans: 6.5 Kgs per person per a month
–          Vegetable oil: 1.5 lts per a person per a month
–          Salt: 0.5 Kgs per a person per a month
The targeted households will be identified by the targeted parishes through their parish committees and SCCs (Small Christian Communities – 'jumuias'). This will not only encourage community participation but also assist in making sure the most vulnerable people are targeted. The target persons include very poor household, people taking care of HIV/ AIDS orphans, aged or sick persons and IDPs (Internally displaced persons). The committee will also take into considerations the other food interventions available in the area.
The project will endeavour to undertake food for work projects. These include watering of trees, protecting water sources and other projects as chosen by the parish members (community).
Activities involved in the project include:
– Identifying and enlisting 200 beneficiaries (poor household) in each parish through the parish committees and the Small Christian Communities
–  Tendering and procurement of the food through competitive bidding in the local market
–  Transportation of the food to the respective parishes
–  Community meetings to identify Food For Work( FFW) projects to be undertaken
–  Preparation of land and food for work projects
–  Monitoring visits to the targeted parishes and schools
–  Report on the food distribution and food for work (FFW) project undertaken
Active and Completed Projects in Kenya
Iruma Educational Development Project
Location: Iruma, Kenya
Partner: Redemptorists of Kenya
Status: On Track
The Iruma Education Development Program( IEDP) is focused on supporting the following  activities in Year 1 of the programme:
1. Construction of 16 Primary School Classrooms;
2. Renovation of 10 Primary School Classrooms and 103 window frames;
3. Construction of 1 Primary School Kitchen in support of a school feeding programme;
4. Construction of 39 Primary School Latrines and provision of associated septic tanks etc.
5. Construction of teacher's accommodation at Makengi primary school;
6.. Provision of 20 teacher's desks:
7. Payment of salary for Project Coordination;
7.Funding for school leadership administration training
Horn of Africa emergency response
Location: Kajiado County, Rift Valley Province, Kenya
Partner: Aidlink & Girl Child Network
Funding: €16,348
In response to the drought crisis in the Horn of Africa in 2011, SERVE supported the work of Irish NGO Aidlink and the Girl Child Network to feed 7119 children in 31 schools over the next three months. We committed funds to purchase 800 kg wheat pallets per school, 200kg of peas per school, 49 litres of cooking oil and 5000 litres of water per school. (Co-funded by Misean Cara).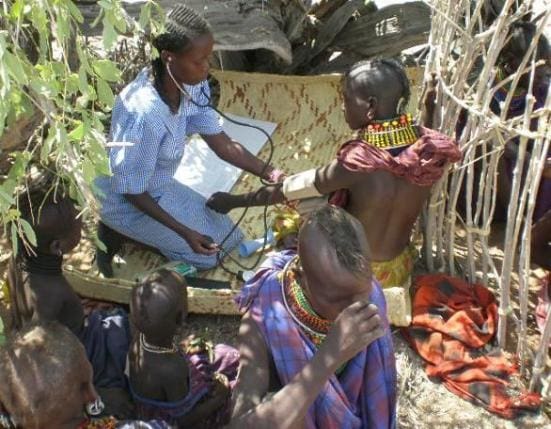 Donate to Projects in Kenya