In South Africa SERVE works with two partners – Tapologo and Tsholofelo – who are working in 12 squatter camps and tribal villages near the city of Rustenburg.
These camps and villages are home to thousands of economic migrants who have flooded into the  Rustenburg area because of its extensive mining industry. Development problems which affect SouthAfrica at a national level, such as very high HIV/AIDS infection rates, high number of orphans, poor access to education and Technical Vocational & Education Training for the poorest, unemployment and poor child nutrition exist at extreme levels within squatter camps and villages. The Rustenburg Local Municipality has a population of 387,113 and a HIV prevalence rate of 28.7%, meaning that over 111,000 people are living with HIV. Within the squatter camps and villages it is estimated that orphans are up to 3.5 times more likely to die early than non-orphan children. The majority of children in camps do not attend early education or primary education. This not only affects their education prospects but also their nutritional status, prospects for social interaction and leaves them vulnerable to abuse and poor decision making within the community. Life on the margins within these camps leads to the family unit becoming fractured and families are vulnerable. They have low levels of livelihood security because they do not have enough resources to cope with shocks or unexpected events. Families live on a day to day basis and are unable to plan for the future.
Tapologo is a pioneering project within South Africa and focuses on the challenge of HIV/AIDS and healthcare within squatter camps. Tapologo provides holistic care and support to thousands of families affected by HIV/AIDS. The four components of their programme are: (1) Community Based Outreach Programme, including Home Based Care; (2) ARV Programme; (3) OVC Programme and (4) Hospice facility for the terminally ill. Tapologo has worked in this area since 1993 and have developed strong links with target communities and an excellent reputation for its service provision. Over 7,000 patients have benefitted from the Outreach Programme since 2001. The ARV Programme has over 3,800 patient files. The OVC Programme streams have provided holistic care to over 700 OVC and the Hospice Unit has given dignified care to over 1,000 people since 2004. SERVE have partnered with Tapologo since 2005.
Tsholofelo has a long history of working with people in squatter camps in Rustenburg in the areas of early and primary education, health care, TVET and advocates extensively on behalf of communities with the local government. Tsholofelo has strong relationships with local government departments and has established and successfully handed over a number of health, education and TVET interventions over the past 20 years. Tsholofelo is committed to working with the poorest people. Tsholofelo is now focused on: (1) establishing early education within squatter camps; (2) establishing Foundation Level education in camps where there are no education resources; (3) developing and handing over health clinics to local management; and (4) providing TVET & Adult Basic Education and Training (ABET) training to people with no education or skills background. SERVE have partnered with Tsholofelo since 2005.
Active and Completed Projects in South Africa
Godisanang OVC Programme
Location: Rustenburg, South Africa
Partner: Tapologo
Funding: €40,000 – 45,000 per year
Completion Date: This is a multi-year project.
The Godisanang OVC Programme provides holistic care to Orphans and Vulnerable Children in 4 squatter camps in the mining area of Rustenburg. These children are classified as OVC due to the HIV/AIDS pandemic affecting the area, and South Africa in general. SERVE support is directed primarily towards the food and nutrition needs of these children. An average of 420 children per month are cared for on this project. (Co-funded by Irish Aid).
Tsholofelo Community Development Programme
Location: Rustenburg, South Africa
Partner: Tsholofelo
Funding: €45,000 – €60,000 per year
Completion Date: This 3 year programme will be completed in 2013
The Tsholofelo Community Skills Training Programme is providing practical skills training and Adult & Basic Education Training to poor young people and adults in communities in the mining area of Rustenburg. The Programme is helping these people increase their incomes, through employment or starting micro-enterprises, and better provide for their families. Over 200 people benefit from this programme per year. (Co-funded by Irish Aid).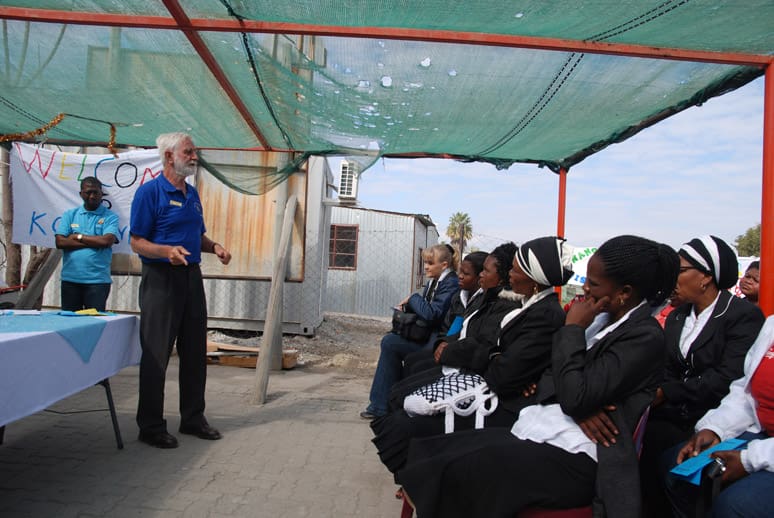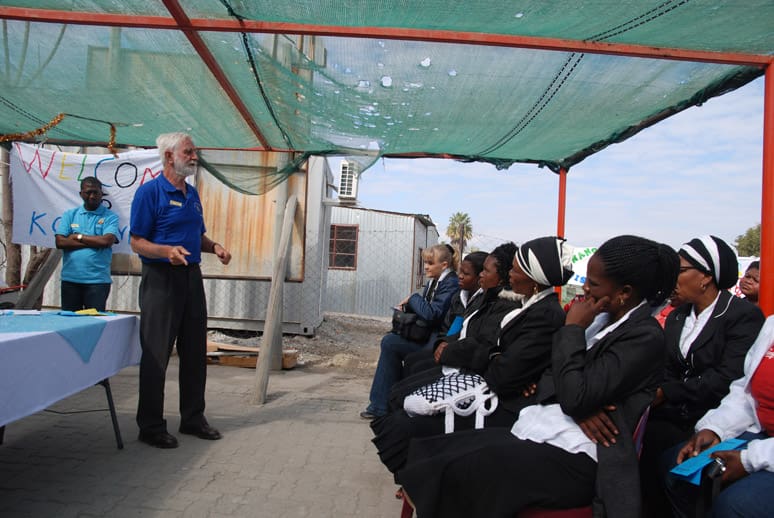 Donate to Projects in South Africa