SERVE works with the Good Shepherds in four locations in Thailand. These are Chiang Rai, Phuket, Nong Khai and Pattaya.
The Good Shepherd's work in each location is focused on reducing vulnerability andempowering marginalised communities, especially women and children. Each of these areas has unique development challenges which can briefly be described as follows:
The remote mountain areas of Chiang Rai, northern Thailand, are home to tribes who immigrated to the area from China, Vietnam, Laos and Myanmar. The tribes have mostly preserved their traditional way of life and retain their own language, customs and dress. The vast majority of these tribes are very poor and survive by subsistence farming. They do not have the same rights or access to services as Thai people and live on the margins of society. It is estimated that less than one third of the 3,000 tribal villages have little access to any educational facilities, especially above sixth grade. Only 30% of Thailand's estimated 500,000 minority tribal people have recognition and are entitled to Thai citizenship. The Good Shepherds work with these tribes in the areas of education, healthcare, HIV/AIDS, income generation and human rights;
In Phuket, southern Thailand, the Good Shepherds work predominantly with economic migrants and victims of human trafficking from Myanmar. Informal estimates put the number of Burmese migrants in Phuket at 300,000. These migrants live in temporary housing which have now turned into migrant camps and effectively ghettoise these people. The living conditions are very basic and contribute to violence, exploitation of children and health problems. Migrants have little or no access to healthcare and education. The Good Shepherds are working in the areas of women and child rehabilitation, health outreach, education, skills training and community networking and reconciliation;
Nong Khai is a rural area in northern Thailand, bordering Laos. Due to the lack of education and employment opportunities in the area, young women have traditionally been forced to leave the villages by their families to find work in large cities like Bangkok and Pattaya. These women carry the burden of having to solely provide for their families and help them meet their basic needs. These women are vulnerable to exploitation and often find themselves forced into the sex tourism industry. In Nong Khai, the Good Shepherds run the Regina Self Help Centre which works with women to empower them and to prevent them having to leave their families and communities. This is achieved through skills training and employment projects in the areas of sewing, handcrafts and catering; and
Pattaya is a city in southern Thailand, located about 160km south of Bangkok. The city is infamous for its sex tourism industry. Women from the poorer areas of northern Thailand come to the city in search of work and the majority end up working in the sex industry. These women are vulnerable, exploited and at risk of pregnancy, HIV/AIDS and other sexually transmitted infections. In Pattaya, the Good Shepherds run the Fountain of Life Centre which is a centre for marginalised women exploited by the sex tourism industry. The Centre promotes the empowerment of these women and provides skills training, language training, counselling and health support.
Active and Completed Projects in Thailand
Empowering Vulnerable Communities
Location: Phuket, Pattaya, Nong Khai & Chiang Rai, Thailand
Partner: Good Shepherd Sisters
Funding: €15,000
Completion date: December 2012
The Good Shepherd Sisters are committed to helping vulnerable women, especially women who are forced to work in the sex tourist industry in Thailand. SERVE & ElectricAid support 4 Good Shepherd run projects which focus on helping women secure dignified employment and prevent women from being trafficked into the sex tourist industry. SERVE also support a programme providing support to Burmese migrants in Phuket. Approximately 3,500 women and children each year benefit directly from the Good Shepherds work.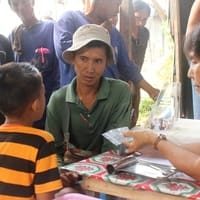 Chiang Rai HIV/AIDS Awareness Programme
This project supported the Good Shepherds HIV/AIDS Awareness and Support Programme (ASP) in the hill-tribe communities near Chiang Rai, northern Thailand. It proposed to hold 22 educational seminars and workshops either at the Good Shepherd Centre at Phan or in the remote villages. By December 2011, the following was achieved:
19 seminars and workshops have been held to date. Twelve of these took place at the Good Shepherds Centre and seven took place as part of the Outreach Programme in 4 different villages in the Phan area;
523 people attended and have benefitted from the training –  This greatly exceeds the target of 100 beneficiaries as per the application;
48 teenage girls who live and receive an education at the Good Shepherd Centre took part in the ASP. This exceeds the target of 40 teenage girls in the application;
Significant contribution towards helping vulnerable people remain HIV/AIDS freethrough the ASP's preventive and proactive approach. The content of the training included – what the HIV virus is; causes of the virus; how it can be spread; how it can be prevented; how one lives healthily with HIV/AIDS, including contributions from doctors on nutrition; and the importance of taking ARVs on time.
The Good Shepherd Centre has developed a profile as a place of welcome and support for people on the margins, including those affected by HIV/AIDS;
In addition to the HIV/AIDS component, information was also provided on issues such as domestic violence, gender equality and human rights, especially concerning the rights and entitlements of the Hilltribe people;
Four communities to date have learnt about their basic rights and entitlements under Thai law. The Good Shepherds have worked closely with village leaders to identify people who do not have national IDs and therefore cannot access medical care and education to which they are entitled. They have also helped people with HIV/AIDS secure an extra 500 baht per month that is available from the government towards achieving a balanced diet;
Doctors and nurses were involved in the seminars and workshops which helped develop contacts between the tribal villages and public health workers;
Four communities to date have been empowered to play an active role in spreading awareness about HIV/AIDS thereby tackling stigma. A community leader was elected by each of the villages and is in the process of being trained by the Good Shepherds to give them greater awareness of HIV/AIDS and other human rights issues. These leaders help in applications to the government on behalf of HIV/AIDS patients. It is envisaged that these community leaders will also help with awareness programmes in more remote villages;
The Good Shepherds know of 37 people within these villages who are HIV positive. The health of some of these patients has improved and they have been able to leave the villages and secure work in urban areas. This is helping with their, and their families, livelihood security;
Links developed between the ASP and Good Shepherd Sharing Fair network which sells fair trade products in the UK, US & Australia. Beneficiaries of the ASP bring pieces of traditional embroidered pieces to the Good Shepherds, who pay a fair price for them. These pieces are then sold through the Sharing Fair network. This income, although small, is important for people with few substantial income generating opportunities;
Relationships developed with 28 vulnerable families in the target villages. The Good Shepherds continue to work closely with these families;
Donate to Projects in Thailand