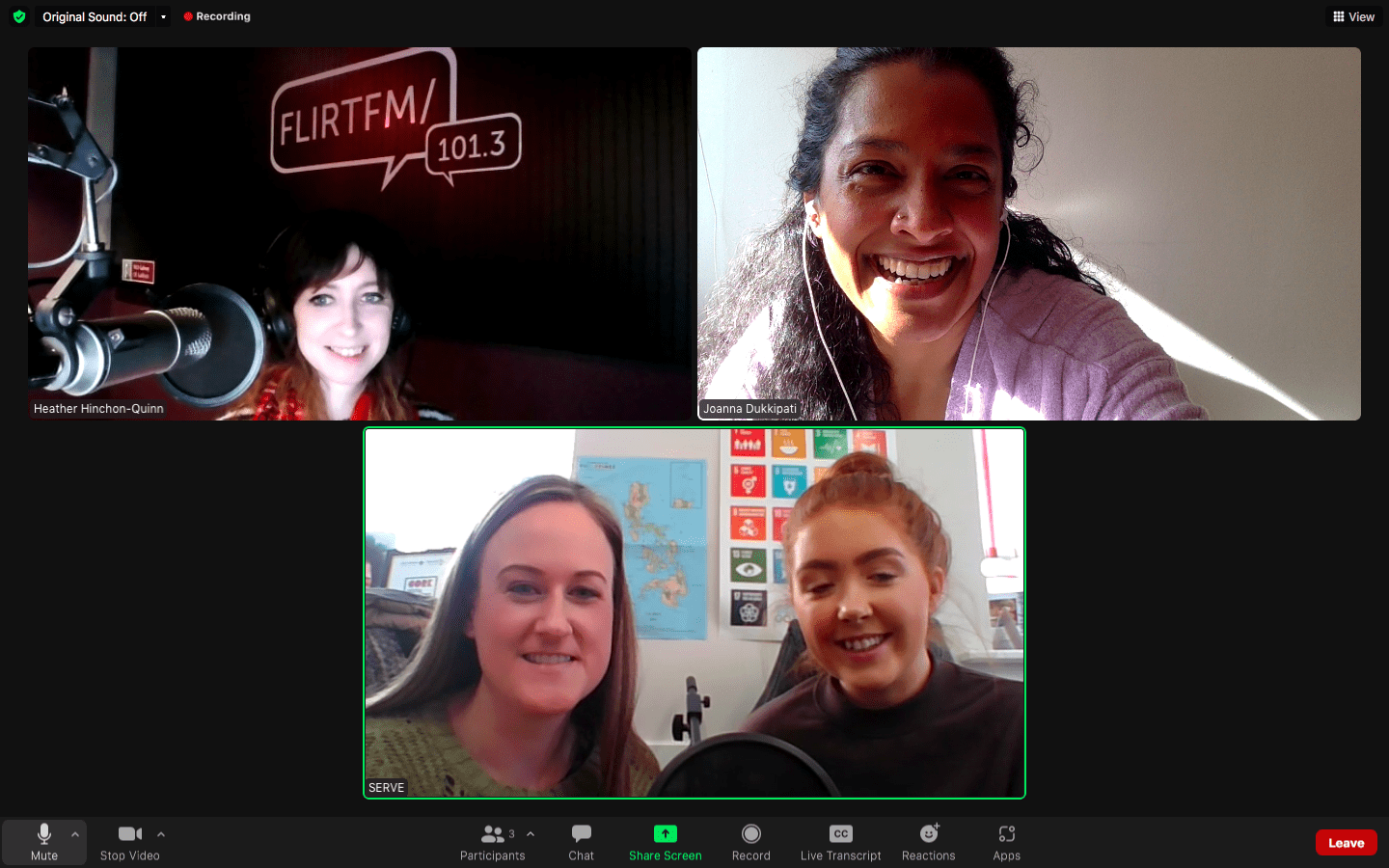 Few takeaways from SERVE's Flirt FM take over
SERVE Intern Catriona Reed shares a reflection after listening to our take over of Flirt FM on 15th March 2022.
I am a huge admirer of the work that SERVE do every day to help people in need.
This March, I took part in the Run-a-Muck challenge in Co. Kildare along with nearly 20 other volunteers to raise funds for SERVE. We spent the day running through mucky fields, walking through streams, jumping over hay bales, and climbing rope ladders. We were all exhausted at the end of it but the sense of achievement we all felt was worth it. It was a fantastic experience and I'm really glad that I took on the challenge! The funds raised go to helping SERVE's partners in Asia and Africa to help local people gain the skills they need to lift themselves out of poverty.
I'm pretty new to SERVE, so listening to their two-hour takeover of Flirt FM helped me gain a valuable insight into their operations abroad and in Ireland. My new colleagues, Paula Quigley and Nollaig Hulme, gave a brilliant overview of the value of SERVE's work alongside a selection of fantastic music by Irish and international artists.
There's a new day dawning
There's a new day, there's a new day dawning
And I think it's going to be all right
'Cause I almost see the light of a new day
(New Day, LYRA)
One of the key themes that Paula and Nollaig covered was that of solidarity, which is the foundational ethos of SERVE. SERVE shows its solidarity with developing nations in a unique way. Have you ever heard of the old quote that goes, "If you give a man a fish, he will be hungry tomorrow. If you teach a man to fish, he will be richer forever"? What this quote is trying to say is that if you teach people the skills they need to prosper, they will become self-sufficient. When I first learned about SERVE's working model, this quote was immediately what I thought of.
SERVE works in solidarity with partners in developing countries, such as Young Africa, the Redemptorists, and the Assumption Parish, some of whom are featured on the radio takeover. SERVE's aim is not to replace these local organisations but to support them in building their own self-sustaining systems by providing volunteer help, financing, and skills training to name a few.
One of the initiatives supported by SERVE which featured on the show (@ 38 minutes) is the Pen Pals Project. This project facilitates two-way lines of communication between children in Ireland and Zambia. 
Children write to each other and become friends through the written letter. Zambian children benefit hugely from this as they get to practise written English with a native English speaker, improving their writing and comprehension abilities and providing them with a vital skill for the future. Meanwhile, Irish children broaden their horizons by building bridges with a new friend abroad, and all children participating in the project realise that they have far more in common with each other than what separates them.
You are my best friend
My only best friend
You make me laugh
You make me smile
(Best Friend, ANDREAH)
A key takeaway I had from listening to the takeover was about the importance of global citizenship. Inequality between the global north and global south doesn't lead to better outcomes – and this has never been more evident than it is now as climate change seems to reach new heights every year.
It is abundantly clear that our actions up to this point have been destroying the planet for short term gains, but the Sustainable Development Goals give us a roadmap out of this toxic cycle.
If you would like to know more about the SDGs, SERVE has two brilliant ways to do so. The Global Goals Trail at SERVE's home in Scala, Blackrock is a place that anyone can visit, 7 days a week, to learn more about the SDGs in a relaxing forest environment (@ 24 minutes). The trail takes you on a cobbled path through a gorgeous wooded landscape, accompanied by repurposed painted roof slates displaying information about each SDG, most of which were painted by Nollaig herself. At the end, you will see a beautiful mural showing a selection of SERVE's favourite global citizens – activists in the areas of international aid, women's rights, and climate change.
Another way to immerse yourself in global citizenship is by taking part in SERVE's Think Global Act Local programme this summer (@ 1hr 34 minutes). This was set up as a response to the Covid-19 pandemic when SERVE needed a virtual replacement for its in-person volunteering events, but it has flourished into so much more. Throughout the programme, participants enjoy guest speakers, seminars, and workshops as they learn more about volunteering abroad, the SDGs, and their role in the global community. I would highly recommend this programme if you are looking for a way to expand your horizons and become a global citizen!
One world, one love, one passion
One tribe, one understanding
'Cause you and me can become one.
(One Tribe, Black Eyed Peas)