By Heather O'Leary
We have been here in Mozambique for the past two weeks. In this time we have got a lot of work done and have experienced a lot so far. Although the language barrier has been difficult we have however with the patience of the people we are working with on a day to day basis, we have learned a number of Portuguese phrases which have helped us to develop relationships with the people and to learn about their lives and culture. So far we have painted the interior and exterior of the crèche. We have also been tiling the bathroom for the crèche, which we will be completing any day now. I personally enjoy tiling the most as I find it the most satisfying to see my completed work. I'm extremely proud to have worked so hard on this as it is a necessity and it will be put to practical use. I have witnessed an immense amount of poverty and this was, at times, overwhelming. However the people seem to have smiles on their faces and their happiness is both contagious and heart warming.
Our First Week in Mozambique
By Aaron Whelan
We arrived Beira airport on the 7th of July and the excitement was high. We arrived into the airport to be greeted by our second leader Karina. This was really cool because we had previously only seen Karina through Skype calls on our training day. We went and got our visa, collected our bags and we headed to the bus to be greeted by our third leader Vernam. We also had only seen picture of Vernam so meeting him in person was really nice. We started our journey to where we would be staying in Young Africa and to say the least it was a complete eye opener of a journey. People among people were working away by the side of the roads selling loads of various things ranging from food to car equipment. It was very interesting to see that the road had being all dug up as the road was being redone but was causing a serious amount of traffic while doing this. There were kids in the pot holes searching for stuff that might be of use to them. It was quite interesting to see some very modern houses and big buildings that had been built by the Chinese. The new road is one of the construction projects that they are running, and to complete this they had to displace thousands of people and their shops so the road can be built. What amazed me even more was families were only given 8 meticais for their compensation, which in Ireland wouldn't be the equivalent to €0.02. This is to build a new house and feed their family. I was taken back a lot by this which really made me quite annoyed. We finally arrived to the campus of Young Africa and I was in absolutely awe. It was such a beautiful place with some amazing facilities. We arrived in a Friday so it was quiet enough around as the school had finished and work had being stopped for the weekend so we didn't see what the place looks like on a normal day. We were sent purposely on the Friday so we could take the weekend to settle into the place and get used to all the new surrounding. So we went to our rooms and we all got sorted with unpacking and hanging up our nets up for sleeping in. It was great that there was only two lads as we got a bed to ourselves and also another bed so that we could arrange all our stuff out neatly. When we all finished we decided to take a walk around the campus as a group to see what was there and to get used to the place.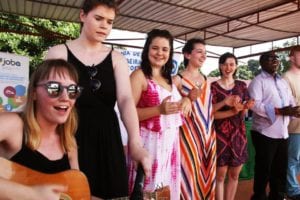 We saw where we would be starting our work on Monday and this had me very excited as it was a great project to get straight into it and it was going to get a lot of use out of it which was great. I was shocked to see the amount of facilities they had here in Young Africa. We headed back into the hostel where we were staying and had a cup of tea and just chatted among ourselves and the leaders to see what our first impressions was of the place and to say the least everyone was in complete awe of it. It was late enough so we all decided to get an early night in so we would be well prepare for the weekend and week to come. Saturday came around and we were all up nice and early and had breakfast and get on the road. We headed into town so we could go to ShopRite which is the big shopping market in the town to pick up some bites for the week that we needed so we had stuff just to have a nibble at the nights with a cup of tea. We then went to the beach for the day to get settled in. This was really nice as we all bonded really well and got to know each other a lot more which was lovely because we were going to be working with each other for the next four weeks. It was a great day altogether as we were swimming, sunbathing and had food which was so nice. It was around 5 and we decided to head home as the leaders wanted us to be back before it got dark which also complete shocked me was that it goes dark in Mozambique around 5:30 and by 6 it is completely pitch black. We got back to the hostel and we all were wrecked again and the plane journey was still affecting some of us and we all had a cup of tea and had a chat about the whole day and how we were all feeling. It was great because we got to hear what everyone was thinking about the experience so far and it was nice also because we got to find out more about people also. We also got an early night so that would could try caught up on some sleep we missed on the plane journeys on our way to Mozambique. Sunday morning came and once again we were all up bright and early as it does get quite bright early in the morning which I was used to so it was a little bit of a shock to me. We decided to do the very same as Saturday because everyone enjoyed themselves so much and it was a great way to get to know each other so we decided to go to the beach again and it was a great day also. It was Sunday night and there was a lot of excitement around the hostel as we were starting to work tomorrow on our project so everyone was anxious to get straight into working. We all headed to bed to start our journey of volunteering on Monday.
Week One:
Monday came and we all got up bright and early and had our breakfast. As we were eating our breakfast our leader Vernam spoke to us and explained what we were going to be doing for the weeks coming. We were all very excited to start and get into work. We walked over to where we where going to be working and the crèche was looking very bare so we had a lot of work to get through. Everyone got straight into their work and we got a lot done. There was a mixture of cleaning, painting and tiling. We split into two different groups. One group went and were starting the painting and then the other group started tiling. I was in the group that was tiling so this was very exciting because this was something I had never done before so it was a new learning curve for me. We all got taught by the construction teacher how to lay the tiles properly before we started so we had a clear idea of what we had to do. We started and it was hilarious, it took us about an half an hour to lay about three tiles.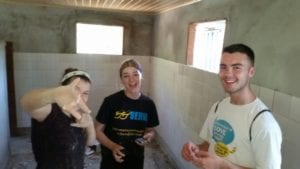 It took us a while to get the hand of things but once we got into things we were well into it. We went for lunch so all the group were back together and we all chatted about all how our day was going and we were telling each other how we were getting on. Everyone was in flying form and was great to see. Everyone was settling in perfectly. We had a lovely lunch from Magia So and it was delicious. I was delighted because I was a little worried about the food and when I saw what we were getting I was over the moon. It was just as if I was back in Ireland but even nicer. We had an hour and a half for lunch so we had time to chill after our food before we headed back to work. We went back to the hostel and got a cup of tea and then we went back to work. Each group switched after the break so we would get the best of both worlds, also both groups could get taught how to do tiling because the teacher was only going to be there for the first day so we had to make sure all the volunteer knew how to tile. Plus it was also really good because we got a change in our day and if we didn't like one station we didn't have to stay at it for too long. I felt this was a really good idea because some of the volunteers didn't enjoy the tiling because they couldn't get used to it so they could of stayed at the painting if they wanted to. It came to four o'clock and we started to clean up as that was our working day over with. What a first day working it was. Everyone was delighted with the amount of work that was done. So it was a very successful day. We all raced back to the hostel to shower. This was a funny time because the shower are all cold so there was no hot water. The screams coming from the bathrooms was hilarious. Then to experience it was another torture. I'd say I was at least three minutes maximum in the shower. It was so cold that I couldn't feel my fingers afterwards. We were going to have to get use to it as we had to shower in cold water for the month we were here. We all got changed and we came down to the dinning room. We had a quick chat on how our day went and checked to make sure everyone was happy. We were all delighted with how our first day work went. We then decided to have a bonfire to get our first night off to a good start. It was unreal because all the hostel boys and hostel girls came out to the fire and it made a great night. The laughs and banter were flying high and it was great crack. We got to know all the hostel girls and boys which was so nice because we were going to be spending a lot of time with them during the month. It came to around ten and the hostel boys and girls had to head to bed because they had a curfew. We decided to stay for about another ten minutes after they left, as we had work in the morning and some of the group were tired from the day's work, we said we would get a early night. That was my first days work as a volunteer and how much I loved it. It was going to be a very quick week if it went anything like today
Challenging Perspectives: Mozambique
To encourage SERVE's 2017 volunteers to think critically about common perceptions and misconceptions relating to developing countries, they have been given the task of taking photos that we think will challenge the perspectives of people in Ireland.  These photos are coming from our volunteers working in Mozambique during July and August 2017.
While so much has changed, developing countries continue to be described through a series of lacks and absences, failings and problems, plagues and catastrophes.  The challenge we set our volunteers was to be open to seeing things differently, to fight the stereotypes and exhibit the reality.
The photos featured here aim to challenge perspectives around such things as consumerism, gender stereotypes, wealth and nature, which may not necessarily be the common images we associate with Mozambique.
At all times the volunteers will be keeping in mind the Dochas Code of Conduct on Images and Messages.
Click on the photos below to get an explanation of the context of the photo.
By Caroline Wright
17/07/2017
We, a team of seven students arrived here in Mozambique last Friday, 7
th
 July. So far, we have seen and experienced a whole other world. Once off the plane the reality of the heat hit me, but the reality of life here in Mozambique was yet to come. Our drive to Young Africa centre was this reality.  I can't say I was shocked or surprised as the stereotypical image is often painted in a manner of overcrowded housing and stalls on the side of the road.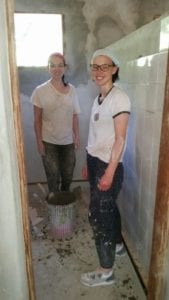 This reality set in my mind of my purpose here and to prepare myself for the difference I could make, along with SERVE.
Monday our day of work began, our jobs were to paint and tile classrooms and bathrooms in Young Africa centre in Beira. These will be used as a creche. The children will be provided with a classroom, bathrooms, shower and a bedroom. This will add to their facilities, allowing for Young Africa to have more children cared for and taught in the creche, with appropriate sanitation facilities. We continued this work until Thursday, with more to continue the following Monday. Friday was filled with excitement and pride of the students graduating from Young Africa. We, the Irish team had the pleasure of being present for this. Helping to prepare for the graduation was definitely worth the work, as I saw the happiness and pride of all the students who had graduated and their families and the joy they all had.