By Cónall Ó Corra
09/08/2017
'S muid ag teacht chun deiridh ár eispéireas tá muid uilig i ndrochdhóigh, táimid croíbhríste agus in ísle brí maidir le pilleadh ar an bhaile. Tá cairdeas agus caidirimh cruthaithe againn lena chéile agus níos tábhachtaí arís tá muid tar éis caidrimh a chruthú leis an Badjao. Is tamall fada é mí, seal fada ar shiúl ón bhaile agus iad siúd lena bhfuil grá againn dó ach níor mhothaigh mise uaigneach na brónach aon uair seo. Is taithí ar léith an obair dheonach thar sáile, d'fhéadfá a rá gurb é an éispéireas inár chruthaítear do charachtar. Mothaím níos congaraí leis an saol agus na daoine ann. Mothaím níos congaraí leis an domhan agus an nadúr ann. Mothaím níos congaraí le haon duine faoi bhrú nó faoi chóis.
Tá sé deacair ag éinne cur síos cuimsitheach a dhéanamh ar a leithéid d'éispéireas, ní dóigh liom go bhfuil na focail chuí ann i mBéarla na Gaeilge.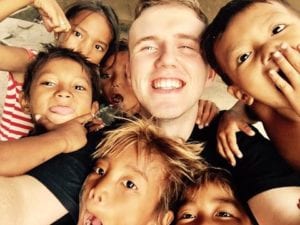 Thóg sé seachtain orm liom féin a shocrú isteach i gcleachtas na háite; a leithéid de teas níor mhothaigh mé riamh! Faoi dheireadh na chéad seachtaine is cosúil gur imigh an t-am ar nós na gaoithe, tá sé doiligh creidbheáil go bhfuil an blag seo faoi chaibidil agam cheana. Ní dhéanfaidh mé dearmad go deo ar an fáilte gach maidin ó na páiste beaga na dearmad ar na déagóirí. Cupla rud atá tar éis teacht chun solais dom, is cuma ca háit ar domhan atá tú, tá páistí agus daoine mar I gcéanna, is cuma faoin achar eatarthu is daoine muid uile.
Tá roinnt mhaith rudaí eile i ndiaidh mo thuairimí a athrú. Glacann muid leis san iarthar go bhfuil iomlán an chirt again I gcónaí, go bhfuil ár sochaí mar a ba cheart do sochaí a bheith reachtalaithe, go bhfuil muid sibhialta. A mharlairt atá fíor, níl ionainn ach breagadóirí má chreideann muid ár raiméis féin. Ní dóigh liom go bhfaca mé duine gan miongháire mór millteanach ar a n-aghaidh anseo, tógtar sin an cheist cad faoi sláinte meabhrach na ndaoine anseo. Anois bheadh sé iontach aineolach chun maíomh nach bhfuil aon tinneas meabhrach anseo ach déarthainn nach bhfuil sé leath chomh olc anseo is atá sé sa bhaile, ní sin cáineadh orthu siúd sa bhaile. Níl an iomarca acu anseo is atá ag daoine sa bhaile, níl gach ní atá uaidh acu, tá sa bhaile. Tuigeann na daoine anseo an tábhacht le obair chrua agus le hiarracht, tá na daoine anseo beo ar an bheagán agus tuigeann siad nach mbeidh fáic acu gan obair chrua. Níl sin le rá nach ndéantar dúshaothrú orthu.
D'athraigh an eispéireas seo mo chuid smaoite uilig faoin bhochtanas, is aineolachas é agamsa a rá gur cheap mé go raibh mé iomlán eolach ar an bhochtanas mar gheall ar mo sheal san Afraic. Tá rudaí feicthe agam anseo nach ndéanfaidh mé dearmad orthu go lá mo bháis, ní hionann sin agus a rá go raibh gach aon rud dearfach.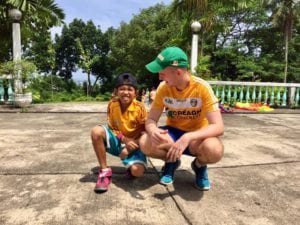 Mothaim trua do dhaoine ar an ghannchuid ach ní dóigh liom go raibh an nasc pearsanta seo agam riamh ina bhféicim an bochtanas. Pléann na carthanachtaí sa bhaile leis an bhochtanas, cé chomh olc is atá sé ach ní go dtí go mbuaileann tú le duine beo sa chomthéacs sin go gcuireann tú aghaidh leis na focail
Caithfidh mé mo bhuíochás a ghabháil le SERVE as ucht an taithí seo, scéal beag amháin ba mhaith liom a insint sula dtéim abhaile. Inár gceardlann drámaíochta ceann de na laethanta d'iarr muid ar na déagóirí insint dúinn cd a bhí mar sprioc s'acu sa saol. D'fhreagair cuid dóibh; dochtúirí, múinteoirí, aisteoirí srl. D'fhreagair duine amháin acu leoga go ba mhian leis lámh cuideachta a thabhairt do phobal s'aige. Bhí éifeacht domhan aige sin orm, rinne mé an ceangal ansin i mo cheann idir muidine agus an leaid óg seo. Is eiseamláir an leaid seo, agus go pointe is eiseamláir muidine. Níl mé ag déanamh a mhór dúinn, ní ar choir ar bith ach tuigeann muidine. D'ofráil muidine ár samhraidh, am lenár gcairde, teaghlaigh agus páirtnéirí chun teacht. Rinne muid seo ní ar lorg aitheantas na ar lorg clú ach ar mhaithe leis an chine daonna, ar mhaithe leis an choir agus an maitheas. Ar son daoine faoi chois, ar son daoine beo ar an ghannchuid. Theagasc gach duine dúinn rud nó dho ach d'fhoghlaim muid níos mó ón Badjao. D'fhoghlaim muid meas dá chéile, don domhan timpeal orainn agus thar gach rud eile d'fhoghlaim muid grá agus dáimh. Ní féidir praghas a chuir ar sin.
Bhí seo mar an taithí ab fhearr a bhí agam riamh agus beidh mé buíoch go deo na ndeoir don deis. Téim abhaile le neart dóú gréine, gan ionga choise ach le cuimhne cinn agus dearcadh ar an saol nach nathróidh nó nach ndéanfaidh dearmad orthu riamh.
As we come to the end of this trip we are badly shaken and heartbroken and in bad spirits about our return home. We have made friendships and relationships with each other but more importantly we have made relationships with the Badjao. A month is a long time to be away from home, away from those we love but I never felt sad or lonely once. Volunteering abroad is an experience in itself, I would argue that it's one of the things that creates and defines your character. I feel closer to life and the people in it. I feel closer to the world and the environment in it. I feel closer to anybody who lives in poverty at home and those who are oppressed.
It is hard to put together a comprehensive description to describe this kind of experience, I don't think there are the words in Irish or in English. It took me a week to get into the swing of things and adjust, I've never known heat like it! It seems that time vanished after the first week, it's hard to believe that I'm now compiling my final thoughts. I'll never forget the big welcome every single morning from the little children to the teenagers. A few things have become apparent to me as I write this blog at the end, that is it does not matter what part of the world that you live in, children and people are the same, it does not matter the distance between them, we are all people.
A lot of the other opinions that I had have now changed. We accept in the west that we are right in our beliefs always that our society is how a society should be organised, that we are civilised. The opposite is true, we are only lying to ourselves if we believe our own hype. I don't think I've seen one single person without a big smile on their face, that raises the mental health question that I've been thinking about. It would be very ignorant to claim that there is no mental health problems here but I would argue that it's not half as bad here as it is at home, that's not to criticize those at home. People here do not have what people at home have, they don't have every desire. The people here understand first-hand the importance of hard work and effort, people here are surviving on the bare minimum and they understand they'd have less without hard work. That's not to say they aren't exploited.
This experience has completely and utterly changed my view of poverty, it was arrogance of me to think that I understood poverty based on my time in Zambia last year. I've seen things here that won't leave me until I die, that's not to say that everything has been positive. I've always felt sorry for those who live in poverty but I've never had the personal connection that I have now. The charities at home talk and discuss poverty, how bad it is but it's not until you meet someone who lives in it that you can put a face to the theme.
I must thank SERVE for providing me with this experience, I've one little story that I'd like to share before I'm homeward bound. In one of our Drama workshops we asked of the teenagers what their ambitions in life were. Some of them answered with doctors, teachers and actors however one of them answered that it was his ambition to help his community in
life. This impacted me on a very deep level, I made the connection between this young lad and ourselves. This lad is an example and a role model and to an extent we are. I'm not blowing smoke up ourselves, not even a little bit. We offered our summer over spending time with our loved ones and friends to come. We did this not for recognition or fame but for people, for what's right and just. We did it for those who are oppressed and for those who are just surviving. We all taught them one or two things but we learned more from the Badjao. We learned respect for each other, for the world surrounding us and above all else we learned love and empathy. You can't put a price on that.
This was the best experience I've ever had and I'm forever thankful for the opportunity. I go home sunburnt, without a big toenail but with memories and a view that I'll never forget or change.
Community Interdependence in the Badjao
By Catriona Feehily and Étain Collins
08/08/2017
We first met the Badjao tribe on the 8th of July 2017. Having seen many pictures and videos of the living conditions of the tribe before we arrived we thought we knew what to expect. However, when we met them on that first Saturday it wasn't long before these perceptions were proven false.
As an indigenous tribe who have been marginalised, abandoned, and discriminated against by their Filipino community, one would think that they would be a reserved, frustrated and disheartened group of people. However, as we walked through the gates the warm welcome overwhelmed us. The Badjao children ran up to us laughing, shouting hello, taking our hands, and wrapping their arms around our legs. We had never been asked our names so many times before. Within minutes they were being chanted across the yard.
When we entered the Nano Nagle school we were each crowned with necklaces made from ribbon and printed with the SERVE logo. All the teenagers then took part in a welcoming ceremony where they showcased their traditional dances and songs. They all wore handmade Badjao trousers and the two teenagers who presented the show spoke perfect English.
In addition to the positive mindset of the tribe, we were also struck by how hardworking they all are. The youngest members of the tribe start Montessori school aged just three, if they are lucky enough to be accepted. Here they are faced with the challenging task of learning two new languages, Cebuano and English, in addition to their native Badjao language. They also learn the basics such as how to hold a pencil and how to use a chair to prepare them for elementary school. The elementary and high school students spend the day at their respective schools and then attend tutorials in the Badjao school when they return. The high school students take part in our drama, music, art, and dance workshops. Their school day starts at half six and finishes at five. Despite the long hours and tiring work, they're continuously enthusiastic and open to trying new things.
The Badjao parents also take the education of their children very seriously. Unlike Irish Montessori classes, there is always a small group of parents who sit at the classroom doorways ready to lend a hand when necessary.
Community interdependence is the foundation of Badjao tribe. They rely heavily on each other but also know that they can depend on each other. We see this in action in the running of the school. For example, one of the elders of the Badjao community prepares enough food to feed all the Montessori children lunch every school day. In return, she earns an income which enables her to provide for her four grandchildren.
Although this community spirit and positivity was evident from the first moment we stepped into the Badjao, it was truly realised one day after school when we had to stay back late because of a storm. Instead of finding shelter like we did, young people of all ages gathered outside together in the rain. There were children running back and forth through the puddles with their toy boats and dancing under the streams of water flowing from the roof. Teenagers continued their game of volleyball while another group of friends sang and beat boxed together.
As we watched the young people playing in the storm we couldn't help but envy their carefree attitude. With only four days left we hope that we too can adopt a similar mindset and apply it to our lives at home.
Education in the Badjao and Ireland
By Louise Lordan and Alison McCarthy
01/08/2017
In a community lacking some basic amenities that many of us would be lost without at home, for example; running water, tables and chairs etc., Education is high on the list of what the Badjao prioritise. We have for this reason decided to look at the differences and similarities between education here in Cebu especially for the Badjao community and at home in Ireland.
On arrival in the Badjao we were struck by the prominence of the Nano Nagle Child Care & Learning Centre already full of students eager to meet us yet also nervous of their group of new Irish teachers. On our first school morning we were split up into different classrooms consisting of three Montessori classes, two adult education classes and learning tutorials. Our first impressions of the classroom setting was of how organised everything was and how tidy and responsive the children were especially the youngest group after only two months of school.
The teachers nurturing presence definitely shines through the school, with their dedication, enthusiasm and patience to their students and each other.
The Montessori classes are most reminisce of home with some children eager to start and others clinging to a parent.
Though a small bit closer to home, the structure and the layout of the class is very similar. Just like home where the children are expected to take off and put away their coats and bags, the Badjao children remove their shoes before entering the classroom. The classes then proceed with many familiar activities,including rhymes, learning, games and prayers. One thing very different is the Badjao children must learn how to use tables and chairs as they are not in their homes. This is done by only allowing one child take a seat at a time and always reminding the children to use them. One thing we both have noticed is the children are a lot quieter in the classroom and seem to enjoy individual play. Unlike home, the children in the Badjao wear uniforms to Montessori, another way to prepare them for the Public Education system. The biggest difference to home is that the Badjao children must learn three languages in order to be able to attend/understand Elementary, English, Cebuano (the local dialect) and Tagolog (the national language). At the end of classes children are given a nutritious meal to take home which helps encourage the parents to bring them to school and the child to stay in class.
While here we have visited both the Elementary and High School that the Badjao students attend.
We have been surprised by the vast amount of similarities between here and at home, however we think that if we were thrown into the education system here tomorrow needing to know at least three languages and having so many people in one class we don't think we'd adapt very quickly!
(Photo Credit: Alison McCarthy, Louise Lordan, Cónall Ó Corra and Rachel Lynch)
Philippines Vlog: Rugile Nenortaite and John Mullane
The progression of education in the Philippines
The Nano Nagle Childcare and Learning Centre is now at the heart of the Badjao community, providing education to all ages. However, it's journey to this point has not been without it's challenges, challenges we would find hard to even imagine in Ireland. Education was first introduced to the community in 1997 by the Presentation Sisters who set out to fulfil the wishes of the tribe's Chieftain to educate their children. For our blog, we spoke with Annie and Edwina, two teachers in the Centre who have provided education to the Badjao since 2003. We will take you through their journey, from one small hut to the Nano Nagle building which they are all so proud of.
Their story begins in 2003, when Annie and Edwina first came to the Badjao community. The first school structure was a small wooden house, suspended above water on stilts. Coming straight out of university the teachers were faced with very challenging conditions as the school had no materials to use as teaching resources and education was relatively new in the community. At the time, the students lacked discipline, language, and suitable clothing. The teachers had to be very understanding of the tribe's traditions and culture, for example, in times of high tide the children would be out at sea fishing, and so, absent from class. Convincing the parents to enrol their children in school was sometimes a difficult task as work was seen as more important than education at this time. As an incentive to keep their children in school, the teachers, along with the Presentation Sisters offered food such as rice and milk each day they were present in class. Over the next two years the teachers gathered a collection of materials to use in the classroom from their university as well as projects that they and their classmates had completed. For example, the University gave them used crayons, pencils and notebooks and a SERVE volunteer donated a box of musical instruments. Gradually, education within the tribe grew from strength to strength, even acquiring a second house to use as a classroom.
Unfortunately, the fire in 2005 destroyed all materials as well as both school buildings. Annie and Edwina found it important to continue educating the Badjao and so, set up a tent-school with the help of SERVE volunteers.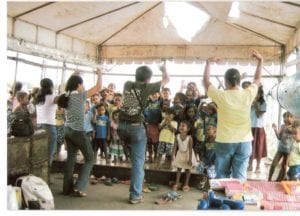 As there was no permanent structure to store their materials, the teachers were forced to carry everything on their back each morning. The tent-school was situated on a slip-road where traffic drove by daily. Each time a vehicle approached, they were forced to gather all the materials and move aside to allow the driver to pass through. This situation continued for almost two years while the Nano Nagle Building was under construction.
Finally, in 2008, Annie and Edwina had a concrete structure suitable to carry out their classes. For the first time; fans, lights, water, and even tables and chairs were part of their classrooms. However, their challenge was far from over. The Badjao homes did not have such amenities and this was intimidating for the children who were at times afraid to enter the classroom. Not only did the teachers have to provide academic education, they also had to introduce the children to new furnishings and structures which they had never seen nor used before. It took almost a year for the children to get used to the confinement of the school building, and to feel comfortable in the classroom. Even during our time here we have witnessed the routine used to guide the students through these practical activities.
So what does the education system in the Badjao look like today?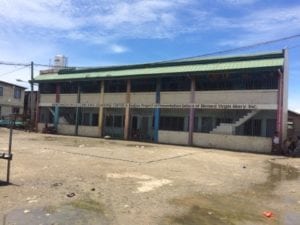 Education in the Badjao has improved drastically from its humble beginnings. As a monument to this, two members of the Badjao, Venerva and Junri, completed their third level education and are now qualified teachers working in the Nano Nagle Centre. Their success stories highlight the importance placed on education in the Badjao today and act as a motivating factor for the younger members of the tribe. The centre now accommodates six different Montessori class groups each day. The children in these classes are aged between 3-6 and are taught by Edwina, Annie and Venerva. In these classes students are prepared for entering elementary school. Meanwhile, Junri provides two adult development classes each day consisting of basic literacy as well as some math, science and geography etc.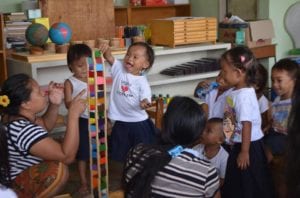 The centre provides tutorials for both elementary and high school students, as well as providing classes to parents on human rights issues and life skills. Each year, more and more Badjao students are completing high school, with plenty of support from the Nano Nagle Centre. Some Badjao students are even entering third level education, which is becoming a popular ambition for the younger students.
While speaking to Annie and Edwina, we asked them about their hopes for the future of education in the Badjao.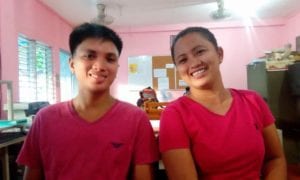 Their greatest hope is that the Nano Nagle Centre will one day be run entirely by members of the Badjao tribe, something we thought was very generous and selfless as it would require them to step away from their jobs which they have held for 14 years. We are also extremely hopeful and look forward to seeing how education in the Badjao continues to progress in the years to come.
Finally, we would like to sincerely thank both Annie and Edwina for answering our questions and providing us with photos that describe the journey of education here in the Badjao community, a journey which we are confident will continue to grow long into the future.
Challenging Perspectives: The Philippines
19/07/2017
To encourage SERVE's 2017 volunteers to think critically about common perceptions and misconceptions relating to developing countries, they have been given the task of taking photos that we think will challenge the perspectives of people in Ireland.  These photos are coming from our volunteers working in the Philippines during July and August 2017.
While so much has changed, developing countries continue to be described through a series of lacks and absences, failings and problems, plagues and catastrophes.  The challenge we set our volunteers was to be open to seeing things differently, to fight the stereotypes and exhibit the reality.
The photos featured here aim to challenge perspectives around such things as consumerism, gender stereotypes, wealth and nature, which may not necessarily be the common images we associate with the Philippines.
At all times the volunteers will be keeping in mind the Dochas Code of Conduct on Images and Messages.
Click on the photos below to get an explanation of the context of the photo.
By Louise Cashman
When fundraising for my volunteer trip to the Philippines with SERVE, I found myself constantly thinking about what it would be like when I arrived in Cebu. I had watched video blogs from previous volunteers, read diary entries and seen plenty of pictures. However, I was not prepared for how overwhelming the environment would be; the sights, sounds, smells, heat, poverty, wealth; but also the astoundingly positive atmosphere created by the Badjao community and the Nano Nagle Centre for Learning.
As the tricicabs bring us along the pot hole ridden road each morning to the school, we are greeted with the warmest of smiles, good mornings and contagious laughter. This is continued throughout our day in school, where the enthusiasm of the kindergarten pupils, high school students, college students and adults would lift anybody's mood.
Despite the overwhelmingly positive experience so far, it is impossible not to feel frustrated. Where one sees poverty in Cebu, one will see wealth a few hundred metres down the road. One thing I cannot yet fathom is that on an island that is only 5000 square kilometres, there is 6 and a half million people and such a drastic and blatant gap between rich and poor.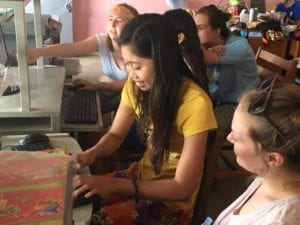 The general public in Cebu seem to have many misconceptions and prejudices about the Badjao people. It is for this reason that I think education is the only way to improve their situation. By this I mean educating all pupils about their history and tradition, in order to change perceptions and remove barriers to education for the Badjao people. The need for this became increasingly apparent after our visit to the local public high school which the Badjao teenagers attend. Educating fellow pupils about the Badjao Tribe with pride would eliminate misconceptions that have existed for generations. This would allow them to be more included in the school community, improve their confidence and therefore enable students from the Badjao Tribe to thrive in their academic life.
This need for education is applicable to every walk of life. If we educate children from an early age about cultures other than their own, rather than try to brush differences under the rug, we can strive for a more inclusive society worldwide.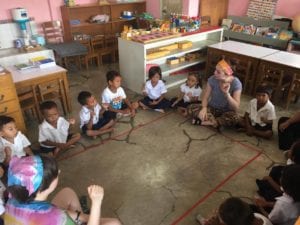 It is our responsibility to provide children with accurate information about minority groups, be it people with disabilities, people from ethnic minorities or people from other places. It is my experience in Cebu so far that has emphasised the importance of such cultural education in my mind.
I think that if this kind of programme was put in place, the incredible positivity, kindness and generosity that the Badjao people have shown the SERVE volunteers could be shared with the Filipino people.
By Dearbhla Kearns
Having spent over a week in the Philippines already, it's hard to comprehend what we've experienced so far. We've had the opportunity to see and do so many things in such a short space of time. Many of my preconceptions about Cebu, and the Badjao tribe in particular, have been challenged along the way. I don't think any amount of training could have prepared me for what I've experienced first-hand, in-country. It can only be described as two starkly contrasting worlds within one city.
As we travelled through Cebu by jeepeney on our first visit to the Nano Nagle Learning Centre, I was amazed by the sheer volume of traffic, heavy smog and all that an overcrowded city entails. The city is simply a bubble of chaos. Even more startling are the poor conditions and pollution that people are living in here in Cebu. This is to a much greater extent than I ever imagined. However, the somewhat negative aspects to life here were quickly cast aside as we received the warmest welcome from the Badjao students and teachers. Never have I ever felt so wanted and respected than by the crowds gathered to greet us.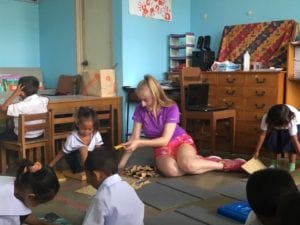 The most beautiful ceremony was held in honour of our arrival and we were given an insight into the music and dance culture within this community. One thing quickly became evident – these people are the happiest people I have ever met.
Over the past number of days, it has become even clearer what it means to the Badjao community to have us here working in solidarity with them. Despite the marginalisation they have often experienced, they continue to possess the greatest thing of all: love. Each morning we are greeted by big smiles from the adorable children as they arrive for school. Throughout the day we are showered with hugs and affection. It is heart-warming to see the appreciation that these kids have for being afforded the opportunity to be educated. Although it is sad to think that this community had been denied the basic right to education until Sr. Evelyn and the Presentation Sisters founded the school in 1997. The work they continue to do is life changing.
While the severe poverty of the tribe is heart breaking to see, as a result education has become everything to them.
These children are so excited to come to school each morning. Meanwhile, at home we often hear children complaining about homework or longing for the school holidays. It is only now that I've come to realise how much we take our education for granted. I can only wish that we could possess half of the enthusiasm and gratitude that the Badjao people have in abundance. I have developed huge admiration for these people and their determination to be educated and fulfil their potential in life. It gives me great satisfaction to see that my initial views and ideas have been turned upside down in a matter of days. The children here are so happy. They have school uniforms and are educated by the most wonderful teachers in pretty good facilities. In many ways, they are just like us and have lots to be thankful for.
However, one week in what continues to baffle me the most is the location of wealth and poverty in Cebu. My initial perspectives have been challenged in a whole new way. I had visions of a city split in two but this could not be further from the truth. People live in great poverty amongst the richest people all over the city. The largest shopping centre I have ever seen is located mere seconds from families living on the side of the street in tiny shacks. If you are not rich, life here does seem to be a struggle. It's not all bad though. The Badjao might not have lots of fancy cars or designer clothes but they are gifted with the most wonderful community spirit. I've been overwhelmed with how welcoming they have been to us as we are greeted with a chorus of hellos as we pass through the community each morning. It is an honour to spend four weeks working within their community as I firmly believe that we have so much to learn from them. One thing I know for sure is that as long as the love and happiness of the Badjao community continues, a bright future is in store for them.
I am so excited to find out what lies ahead over the coming weeks.
By Cónall Ó Corra
14/07/2017
I have to honestly say that I was not expecting the poverty that I've seen since I've arrived here.  I was in Zambia last year myself, with SERVE.  I thought to myself that I would never see people so poor ever again unless I returned to Africa.  Bearing that in mind, I learned and developed a lot of thought and opinions whilst processing it, the main one being; poverty in its entirety, is relative.  That's to say that there is poverty everywhere.  There's poverty in West Belfast and there's poverty in Ballymun in Dublin.  You don't see foreign volunteer workers over doing their bit. Why is that?  This isn't a blog to discuss or analyse colonialism and the western world but there must be an understanding of both if we are to contextualise our experiences.
I look back at the last few months whilst I was fundraising for this project and I think of those who sponsored and donated, quite a large amount of them would fall under the poverty threshold as designated by the EU and the UN. We cannot and I am not comparing people on the Falls Road in Belfast with the Badjao tribe in Cebu.  The Badjao are obviously more financially impoverished but you could also say they are richer in other aspects.  People are poor and live in poverty as laid out by their country.  Poverty can be eradicated; there is a solution and it is not one of the foundation stones of the human race.  People create poverty through their greed and indifference to others. Poverty should be a relic of the past.  We have machines that create abundance.  We have over-population that is putting the world under strain and we have millions of tonnes of food waste a year. You can look at it in another way, it is obvious that the Badjao are financially poor, it is clear that everything they want for is not at their disposal and they have been pushed and marginalised to the edge of society but they have something that we do not; human richness. They have a strong community, they have family and they have love. They have skills that the majority of Fillipinos don't have. You have to find a middle-ground, something the Irish are well versed in. Poverty is relative but there is a solution. I have a view and a belief that is ingrained in my heart, that those who have it in their power to help another person have a moral obligation to do so.  Changing the world needn't be changing borders or inspiring the millions, it can simply be changing one person's life, thus changing their world.
By Cónall Ó Corra
14/07/2017
Caithfidh mé a rá nach raibh mé ag tnúth leis an bhochtanas atá feicthe agam go dtí seo, bhí mé féin ar shiúl i Zambia anuraidh le SERVE. Cheap mé nach bhfeicinn daoine chomh bochta le sin riamh arís seachas dá má dheachaigh mé ar ais chun na hAfraice. Sin ráite, áfach, d'aithin mé agus d'fhoghlaim mé neart ón táithí agus thánagthas chuig roinnt mhaith conclúidí, is é an ceann ba mhó; níl aon ann sa mhaoin ach mar a mheastar í. Is sin le rá go bhfuil bochtanas I ngach aon áit. Tá bochtanas ann in Iarthar Bhéal Feirste agus tá bochtanas ann I mBaile Munna I mBaile Átha Cliath. Ach ní fheictear Oibrí dheonacha ó thar lair iontu ag tabhairt lámh cuideachta. Cad chuige mar sin? Anois ní seo blag ag déanamh cur síos nó anailís ar an choilíneachas agus ar an domhan iartharach ach caithfear tuiscint a bheith ann maidir le cad chuige a bhfuil muidinne anseo ionas gur féidir linn ár gcuid eispéireas a chuir I gcomhthéacs.
Amharcaim siar ar na míonanna beaga atá thart agus an bailiú airgid a raibh orm a dhéanamh chun teacht anseo, de réir roinnt tuisceana atá ag a leithéid den AE agus NA bheadh cuid de na daoine sin faoin líne bochtanas ach bhí said in ann airgead a thabhairt dom chun teacht anseo. Anois ní féidir linn daoine ar Bhóthar na bhFál agus an Badjao a chuir i gcomparáid, cinnte deimhin tá an Badjao níos bochta ó thaobh airgeadra na mar atá daoine eile, d'fhéadfá a rá go bhfuil said saibhir ar dhóigheanna eile. Cad atá ar bun agam anseo mar sin, cá bhfios? Tá daoine bocht de réir tír s'acu agus tá an bochtanas in ann a bheith cloíte, níl an bochtanas gan réiteach agus níl sé mar chuid den bhunchlocha an tsaoil ag an chine daonna, cruthaíonn daoine bochtanas trína santachas agus neamhaird s'acu ar dhaoine eile. Faraor ní cheart go mbeadh daoine bochta ann sa lá atá inniu ann, tá measíní again chun gach ní a dheánamh, go leor daoine le go bhfuil an domhan i mbaol mar gheall ar ró-dhaonra agus na milliúní tonna de fuíoll bia a bheith caite ar leathtaobh gach uile bliain. Is féidir amharc air i ndóigh eile leoga, is cinnte nach bhfuil mórán airgird ag an Badjao, is cinnte nach bhfuil gach ní atá uaidh acu agus is cinnte go mbrúfar iad chuig imeall an tsochaí ach tá rud acu nach bhfuil againn; saibhreas daonna. Tá pobal acu atá láidir, tá teaghlach agus grá acu. Tá said oillte i scileanna nach bhfuil ag tromlach daonra na Filipíneach. Caithfear freastal ar an dá thrá, rud nach bhfuil furasta mar atá fios mhaith ag muintir na hÉireann air. Tá creidimh smior agam mar dhuine; tá sé mar dualgas moralta ag iad siúd atá sé faoi chumás s'acu lámh cuideachta a thabhairt do dhuine eile. Ní hionann an domhan a athrú agus teorann a athrú nó na sluaite a mhealladh, is féidir leis a bheith ag athrú saol an duine aonair, is domhan s'acu atá athraithe, éacht nach beag dár liom.