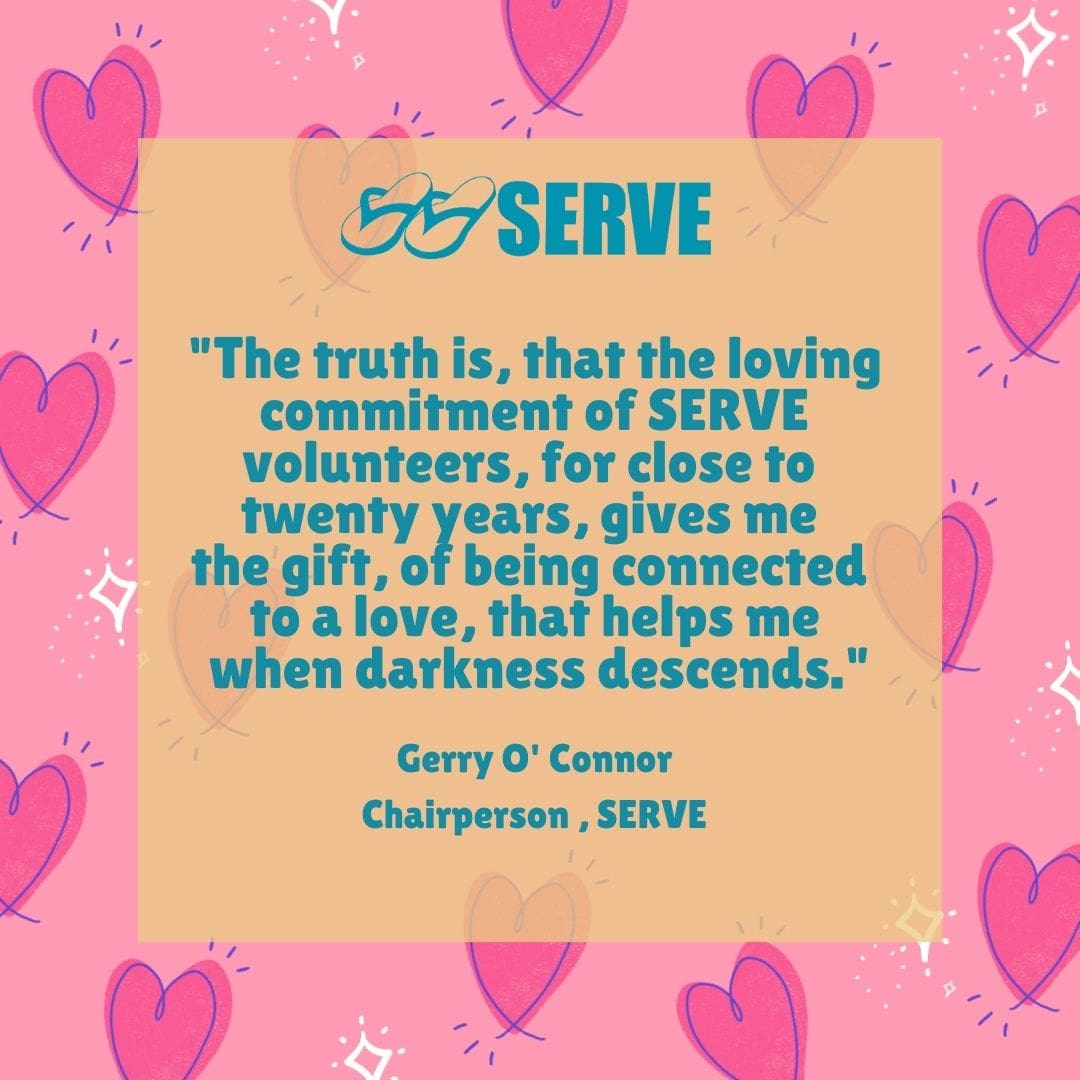 Valentine's Day message from Gerry O'Connor
From time to time, I receive a Valen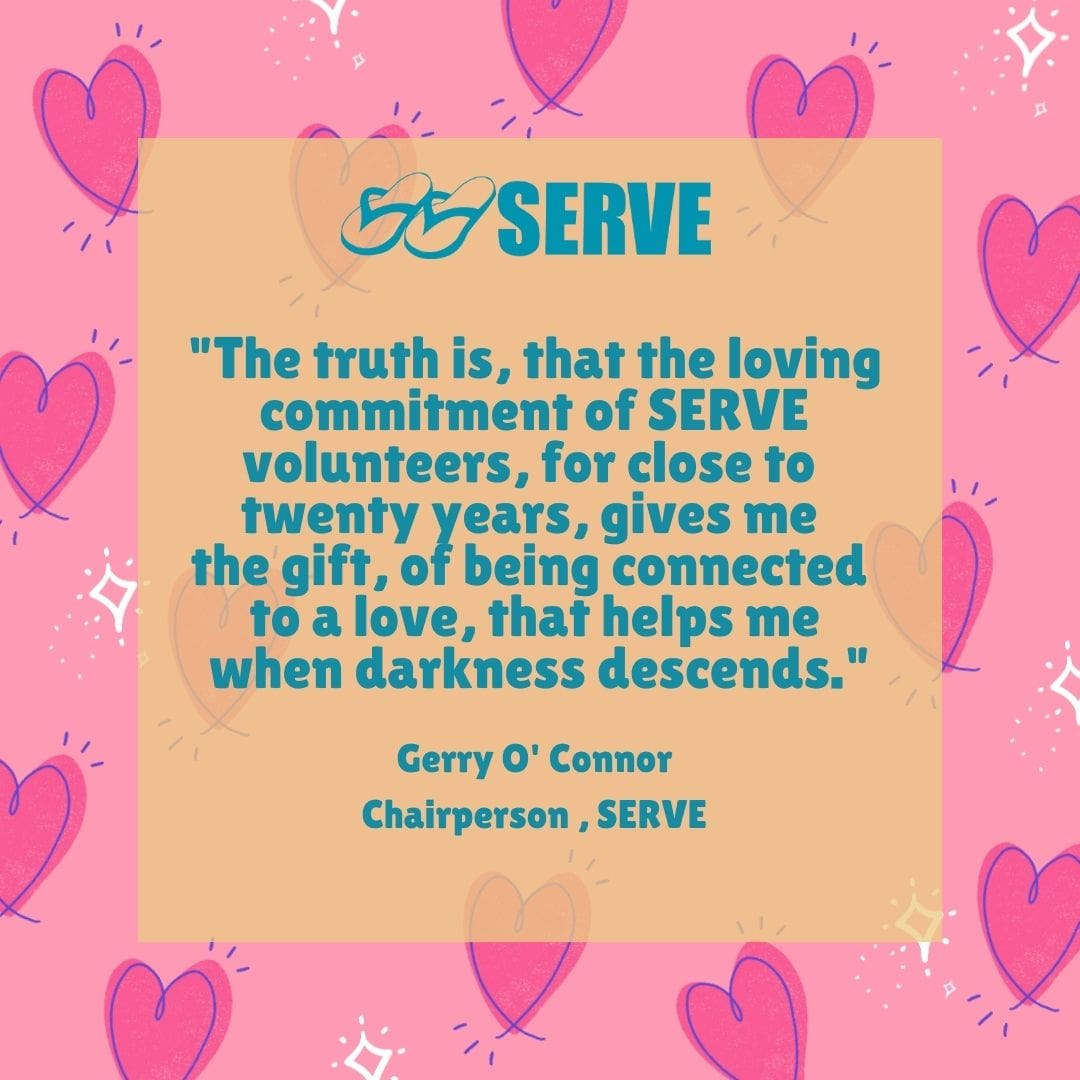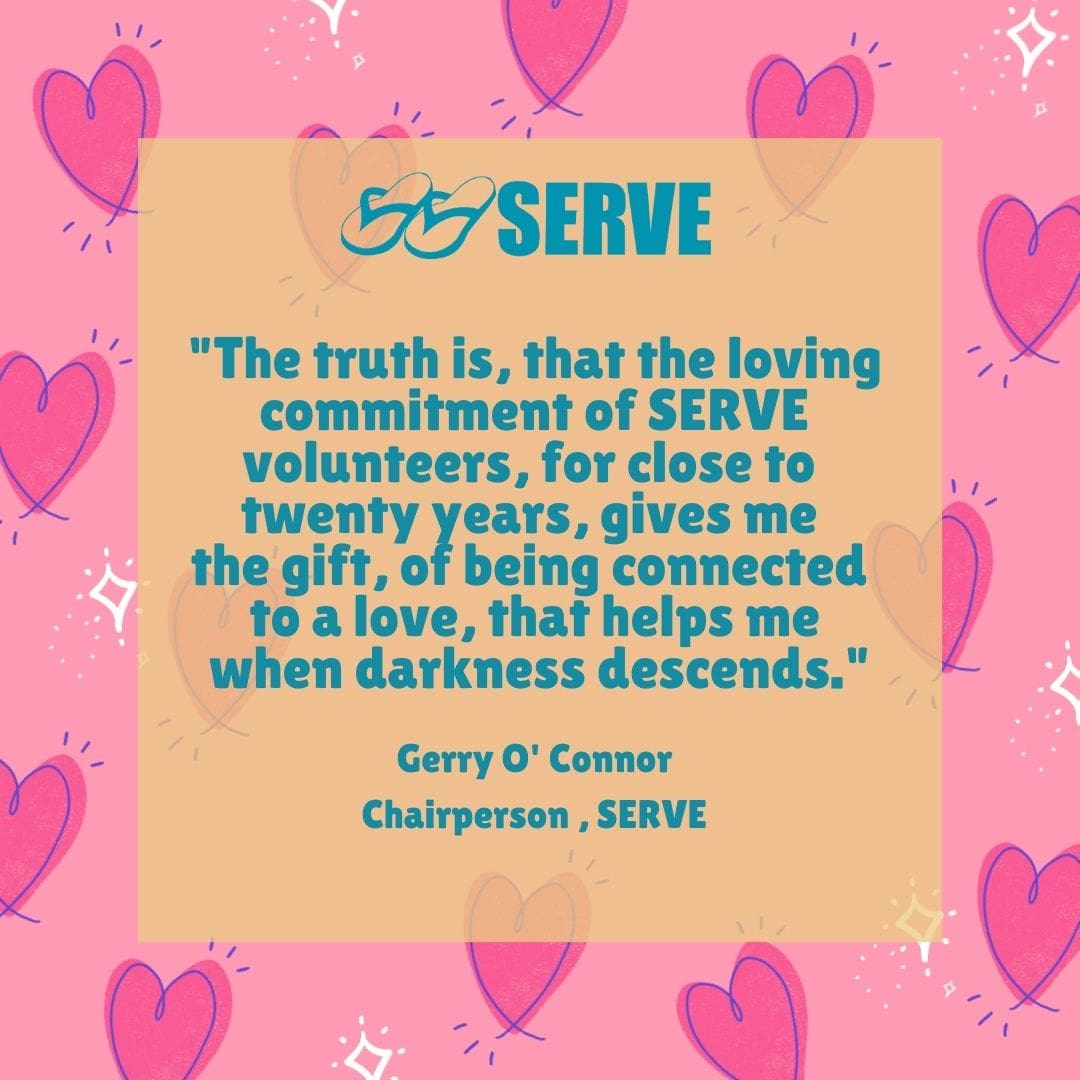 tine's Day Card. Yesterday, I received a 2021 Valentine's card from grandparents and their five, year-old, and six, year old grandchildren.
It is a long time since I have, taken the time, to buy, prepare or send a Valentine's card. Prompted by the romanticists that are ever-present in the SERVE team, this year, 2021- in the midst, of the chaos and diminished hopes, of our times, I delight in writing from the heart. I am noted for my dancing from the heart but writing from the heart is a new venture for me.
The Nigerian poet Chinua Achebe, wrote, that "Proverbs are the palm oil with which words are eaten".  A team of wonderful SERVE volunteers, imagined and designed, and delivered a wonderful, cook-book, for Christmas 2020, capturing the stories, experiences, and eating pilgrimages of SERVE volunteers, during their assignments in Africa, and Asia, and South Africa. I love the SERVE cook-book and I devour the recipes, though someone else always does the cooking.
Poignantly, as I write this note, just pausing to reflect, and suddenly, a wave of appreciation, prompts me to stumble gently, and long to say: "I, cherish the SERVE volunteers, who put their heart, and souls, into this exquisite solidarity project, focused on the tastes and lives, of the communities that SERVE partner with."
The German poet, Rainer Maria Rilke, beautifully writes, that: "To be loved means to be consumed. To love is to give light with inexhaustible oil". Since 2003, my eyes have flickered with gaze and admiration, for one thousand plus SERVE volunteers, who have radiated goodness, passion, humour, solidarity, fun, and tenderness, like a light blessed with inexhaustible oil.
Love cannot endure indifference. Like a lamp, it needs to be fed out of the oil of another's heart, or its flame burns low. At times, when I have felt low, or navigated setbacks, I am fed with the memories, faces, personalities, and passion, of SERVE volunteers. Thus, my light remains ablaze.
I might have heard, for the first time, in Mozambique, the proverb – "Where there is love, there is no darkness," but today, these sentiments, swell, from my soul. The truth is, that the loving commitment of SERVE volunteers, for close to twenty years, gives me the gift, of being connected to a love, that helps me when darkness descends.
I am writing this note, as the rain drenches the Cork landscape. I am sitting at my SERVE desk, and suddenly, I am remembering, words, that I first heard, in the company of SERVE volunteers, words spoken powerfully, in South Africa: "Love, like rain, does not choose the grass on which it falls".
My expression of love to you – precious SERVE volunteer, may not be the love letter that you were expecting this Valentine's, but I hope it falls tenderly and touches your heart.
Yours lovingly,
Gerry O'Connor, Chairperson, SERVE
https://serve.ie/wp-content/uploads/2021/03/Valentines_MessagefromGerry.jpg
1080
1080
Serve
/wp-content/uploads/2019/11/serve-logo.png
Serve
2021-02-14 08:00:55
2021-06-23 11:36:58
Valentine's Day message from Gerry O'Connor