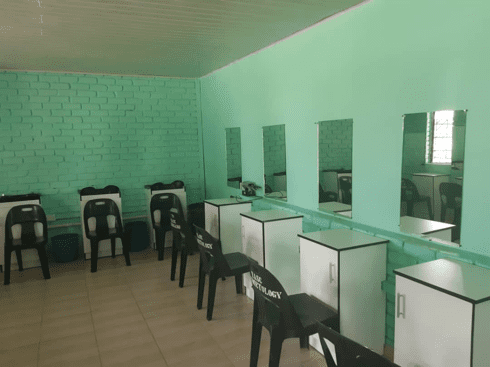 Upgrading the Cosmetology Department at Young Africa Chitungwiza
Under The SERVE Development Programme 2018 – 2021 (co-funded by Irish Aid), SERVE undertook a project in partnership with Young Africa. This project upgraded the Young Africa Zimbabwe's (YAZ) Cosmetology Department at their Chitungwiza Training Centre and was supported with funding from Electric Aid.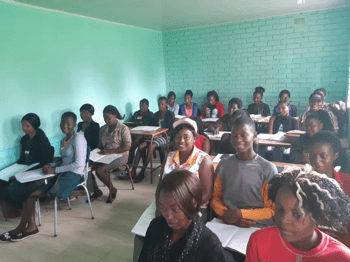 By upgrading the equipment and facilities within the department, the project has increased the capacity to meet the demand for training, as well as providing the resources needed for better quality training and education.
Young Africa had been hoping to reach 100 Cosmetology students in 2020. However, as the centre closed due to the COVID-19 nationwide lockdown, 37 current students were unable to complete their training and job placements, and no new students were able to register in March. Young Africa are committed to working with the current students so they can complete their training when the centre reopens.
10 of these students are receiving scholarships through the Irish Aid funded SERVE Development Programme.
Eurita Makwenje is a 23-year-old graduate of YA Zimbabwe's Cosmetology Department. She graduated in July 2019. When Eurita did not excel in her secondary education, she believed she would not be able to go further in her education. However, her outlook changed when her friend told her about Young Africa and the various courses on offer. Eurita says;
"As I grew up, I always had a passion in braiding and weaving, l would always go to my friends house who was a hairdresser and watch her doing her job at the back of their house. When I heard about Young Africa, I decided to enroll for a hairdressing course with the intention to do what my friend was doing". She says "through studying at Young Africa I learnt the art of working with hair (natural and artificial), negotiating and maintaining good customer relations with possible clients. Eurita started her own business after graduating from Young Africa. She is now earning an income to sustain her family. "Through running my own business, I have been able to generate between $10-$20 usd a week when business is good. However, with the Covid-19 lockdown in place, it has become difficult to operate as people's movements are limited. I now just get clients who stay within my locality in Chitungwiza. Regardless of all this, life has changed for my family. We can now afford to buy food and clothes, which is something that we could not afford. Thanks to Young Africa, they have made me realise my dreams".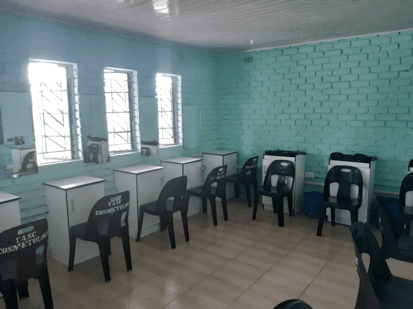 The impact of COVID-19 on future income generation prospects of graduates is unknown at the moment. Therefore, it is more important than ever to provide effective vocational and life skills training to young people. YA Zimbabwe are making some changes to their operations to ensure students can continue their courses safely once the Centre reopens. These include re-arranging classrooms and workshops to support social distancing, reworking timetables to reduce the numbers on campus at one time and improving availability of handwashing stations. There is also work being done to include COVID-19 in the life skills training to students and continuous awareness raising about the importance of social distancing and hygiene.
https://serve.ie/wp-content/uploads/2020/06/ya4.png
367
490
Serve
/wp-content/uploads/2019/11/serve-logo.png
Serve
2020-06-23 12:38:16
2020-06-23 12:45:39
Upgrading the Cosmetology Department at Young Africa Chitungwiza