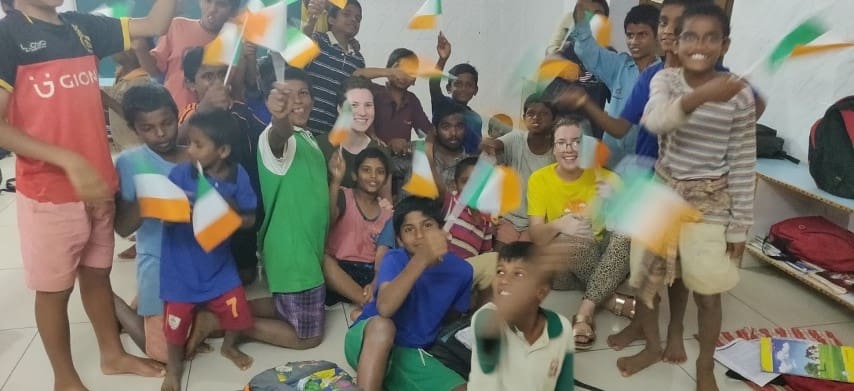 A Personal Reflection of my time in Morning Star
By Amy Considine
It began with a simple idea months ago. That idea became a Skype interview, an excited acceptance, and many fundraising ideas. But now that I have flown across the world, now that I have settled into the mad streets and smells of Bangalore, now that home time is coming closer, the depth of the experience is starting to hit me.
While I was fundraising, one person told me that the people I encounter do not need me, they just need my money. I found this dispiriting and it made me believe that was the sole purpose of the trip. However, spending time in Morning Star Ashram, a home to young boys and men, has changed my perspective entirely. Learning the little boys' personalities and sitting to paint with the men – many of whom have varying disabilities – has shown me that while I am not changing the world, I am forming positive relationships, and memories built to last.
Morning Star, set in the countryside, is as peaceful as its name suggests. Even with the little boys and their big voices, there is a sense of calm that falls over the care home. In the many times I travelled on the dusty road back to Bangalore city, I thought that it is so much more than an orphanage. It is a home.
The routine in Morning Star keeps me busy and I have tried, at all times, to be present with each person I have met. I realise the importance in the power of connection with each passing day. All the boys want is fun, so holding a cockroach and playing hide and seek in the rain are parts of the daily routine I surely did not expect!
The health and well-being of the boys and men is of absolute importance. Morning Star has created an environment that promotes a balanced diet, a connection to nature and prayer, as well as focus on studies. It is a routine that is paving the way for them to be well-rounded and happy individuals. The personal challenges the boys have faced are far greater than what should be experienced at such a young age. It is because of this that they fully appreciate the life they now lead.
Many boys, I noticed, were quite small for their age. Compared to the children in Ireland, I was surprised that boys who looked six or seven, were infact much older. Malnourishment and poor diet at an early age led to their small stature, but since moving to their new home, they eat healthy meals made with fresh ingredients.
Once homework is finished and uniforms have been cast aside, it is time for play. Combined with eating well, exercise is built into their day. From soccer to cricket, relays to roleplay, the boys' voices fill the playground.  They challenge each other's imagination and learns key skills of resolution – with truces being called at dizzying speed – all mixed into the joy of play.
The work has tested me, but aren't the best things in life the ones that take you out of your comfort zone? Many lessons have come to me during my time here. I realised that people are more alike than they are different; these boys and the people who raise them are just the same as you and I. Our skin many be different, our accents may vary but we are hurt and healed by the same things. There is a common humanity in is all, and sharing a smile extends far beyond any language.
https://serve.ie/wp-content/uploads/2019/07/ms2-Small.jpg
391
854
Serve
/wp-content/uploads/2019/11/serve-logo.png
Serve
2019-08-04 09:57:36
2019-08-04 10:08:54
A Personal Reflection of my time in Morning Star