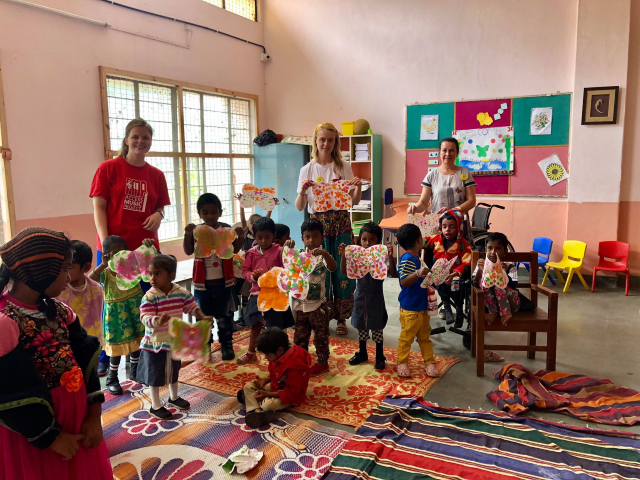 By Michelle, Zara and Sile
As we made our way to APD on Monday morning our minds were filled with thoughts and expectations for the day ahead. Smiling faces met us as we entered the gates and warm greetings set the tone for the week ahead. We had a trust placed in us which we felt was both humbling and a huge responsibility.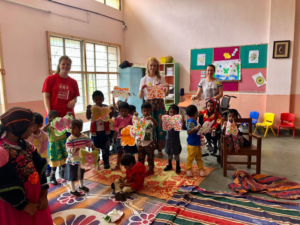 Entering the classroom we were struck by the air of exuberance about the place. There was a joyful chaos amongst the children and our hearts were immediately won. Their confidence, despite whatever obstacles or diagnoses faced them, was inspiring and was very much echoed in the laid back nature of the teachers and school staff.
Eighty percent of those attending APD have disabilities, both visible and invisible, while twenty percent are from impoverished backgrounds; however, this is not something you would notice while walking around. Several families of the children lucky enough to attend APD have uprooted their lives, travelling from as far as 600km away to ensure their child gets the care and education they deserve.
There is an emphasis placed on early intervention so that children are supported in getting the best quality of life possible and reaching their full potential. There are a number of different therapies carried out here which include oral therapy, hydrotherapy, physiotherapy, occupational therapy and sensory activities. The therapists have a special rapport with the children and treat them with great dignity and respect.
A sense of absolute inclusion permeates APD. Each child is seen and treated equally despite the severity of their disability. As the slogan on the back of their P.E. uniform reads "No child left behind". Seeing the children perform at Talents Day today proved this as the children in wheelchairs took over the second half of the show and put on as much of a performance as the able-bodied children.
The emphasis APD has placed on empowering those with disabilities has become more apparent as our first week has come to an end and as a group we have found it inspiring. Many of the children and adults in APD have come to expect the same opportunities afforded to those who have not been diagnosed with disabilities.
Although we have come to Bangalore to help with the education of the people in APD, in many ways it has become them who are educating us.
https://serve.ie/wp-content/uploads/2019/07/apd-Small.png
480
640
Serve
/wp-content/uploads/2019/11/serve-logo.png
Serve
2019-07-26 04:15:15
2019-07-26 04:15:15
APD: Week One