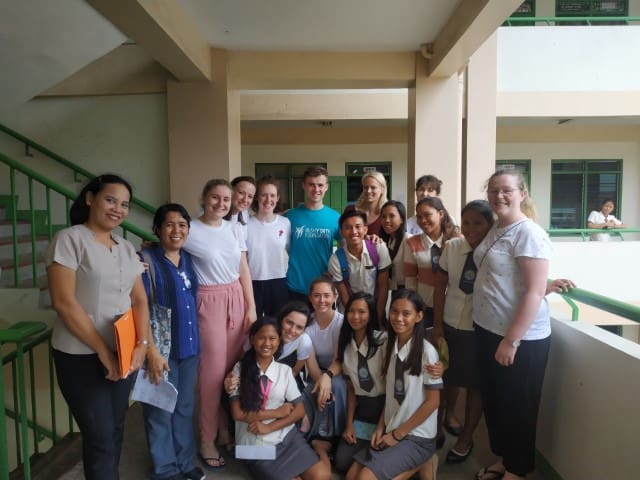 By Eilis O' Sullivan
Badjao! While this name carries negative connotations for many people of the Cebu province of the Philippines, I can confirm that having spent a month with this indigenous tribe the Badjao represents love, unity and kindness. My journey from Ireland to the Central Visayas region of the Pacific on a volunteering program began on the fourth of July. A requirement of our training was to write a reflective blog during our time overseas. As I am a primary school teacher I will discuss the education system in the Cebu area and the hardships the people of this tribe endures to avail of that opportunity.
Hardship
Poverty is endemic in the Badjao. People live in small houses which must often sleep up to ten people. Foul smelling rubbish overflows in the areas where the children bathe, swim and play. There is no refuse collection and there is no running water. The ATM is where the locals purchase water.Here, ATM means automatic tubing machine. It costs 15 peso for one gallon of water, the equivalent of 27c. This, along with the weekly staple of fish and rice represents a significant cost to the people of the Badjao. As the water is heavily polluted fishermen cannot fish here and there is a financial strain on each family. Many of the parents are uneducated and their income is quite low. Some work as vendors, selling jewellery and accessories in the city. For these reasons parents are not always supportive of their children's education. They believe that the children should be working in the city to make ends meet. Children and teenagers are often forced to quit school to provide for their families.
Nano Nagle
The Nano Nagle Education Centre tackles this belief of early school leavers. Tommy is one of the amazingly talented teachers working here. "My dream is that every member of the Badjao tribe is educated" he tells me with a sense of determination in his voice. He was the first child to go to school from a family of ten and certainly didn't have the easiest of paths to get to where he is today. He experienced bullying in his years of schooling. Interestingly enough as his peers got used to having a 'badjao' in their class he would let them copy his work in exchange for sweets or lunches ! He struggled to support himself throughout college even with his sponsorship from Nano Nagle. His father, a fisherman was not always supportive of Tommy and it felt at times to him as though he was alone. Tommy is motivated, and eager to achieve his dreams. He  completed college and went on to teach at the School. He works at the Nano Nagle Centre, as an adult literacy teacher educating early school leavers. This is a huge achievement for someone from the Badjao. The centre itself caters for Montessori children aged three to six. They learn nursery rhymes, colours, shapes and begin to recognize sounds and letters, the Irish junior and senior infants equivalent. The energy in this school is electric. As a SERVE volunteer I hope that I brought some of my teaching skills to their classes.
During one lesson I witnessed four-year-old children learning how to use matches safely. At first I was quite sceptical, running through all sorts of safety regulations in my head. After talking to the teachers, I realized how beneficial it was for these little scholars to practice these important life skills, especially in such a self-sufficient tribe. T.L.E or technology livelihood skills is on the Filipino curriculum. It trains and prepares them for the life ahead. There is a certain element of home economics involved in it as it teaches the children to cut vegetables. As many of these children will start cooking at a young age, it is very important to do so safely.
Problems
After Montessori the children will attend elementary school outside of the Badjao community. However, they are not mixed with other children immediately. In grade one (first class) the children are segregated from everyone else. I interviewed a teacher from the nearby school to discuss why. The teacher tells me that the Badjao have behavioural problems and that they bully other students. I find this very difficult to believe as the children I witnessed at the Nano Nagle centre demonstrated excellent manners and exceptional behaviour for their age.
There has been a history of discrimination against the Badjao and it is believed that it continues today. A part of me wonders how representative are the views of the teacher I spoke to. Perhaps Badjao students are still not accepted within the school. Lessons are taught in Cebuano, Filipino and English to Badjao children who speak a language where writing is never used. How difficult must it be for them to learn each day with all of these challenges?
The school I visited was huge with over 2,000 students, but with nowhere near the number of teachers or other resources necessary to accommodate them. The hallways were chaotic with class sizes of up to 50 students. Unimaginable! Many cannot afford a full school uniform, although this is a requirement. There is also a feeding programme in place. Four times a year they measure the height and weight of each child. If they are underweight the food will provide them with nourishment each day. This system is also in place at the Montessori for the Badjao.
Amazing People
The teachers and principle of the Nano Nagle school care deeply for their students. They face endless hardships themselves, but work extremely hard to help others. Nothing, it seems, can stop these compassionate educators from doing their job. They have a goal to build a sustainable and inclusive community and they are resolute. They have been supported by the financial assistance from SERVE as they receive nothing from the government. SERVE has been a massive part of the tribe over the last few years. Many of the resources in the school have been donated from previous volunteers but the work is not yet complete. The future of the tribe inevitably depends  on these teachers. Every day they come to school smiling and I have never heard them complain. I am so proud to have met these people and will hold a special place for them in my heart.
Salamat WOWJAO!  ❤
https://serve.ie/wp-content/uploads/2019/07/IMG_20190716_104522-Small.jpg
480
640
Serve Solidarity
/wp-content/uploads/2019/11/serve-logo.png
Serve Solidarity
2019-07-29 04:01:31
2019-07-29 04:47:19
Love, Unity and Kindness