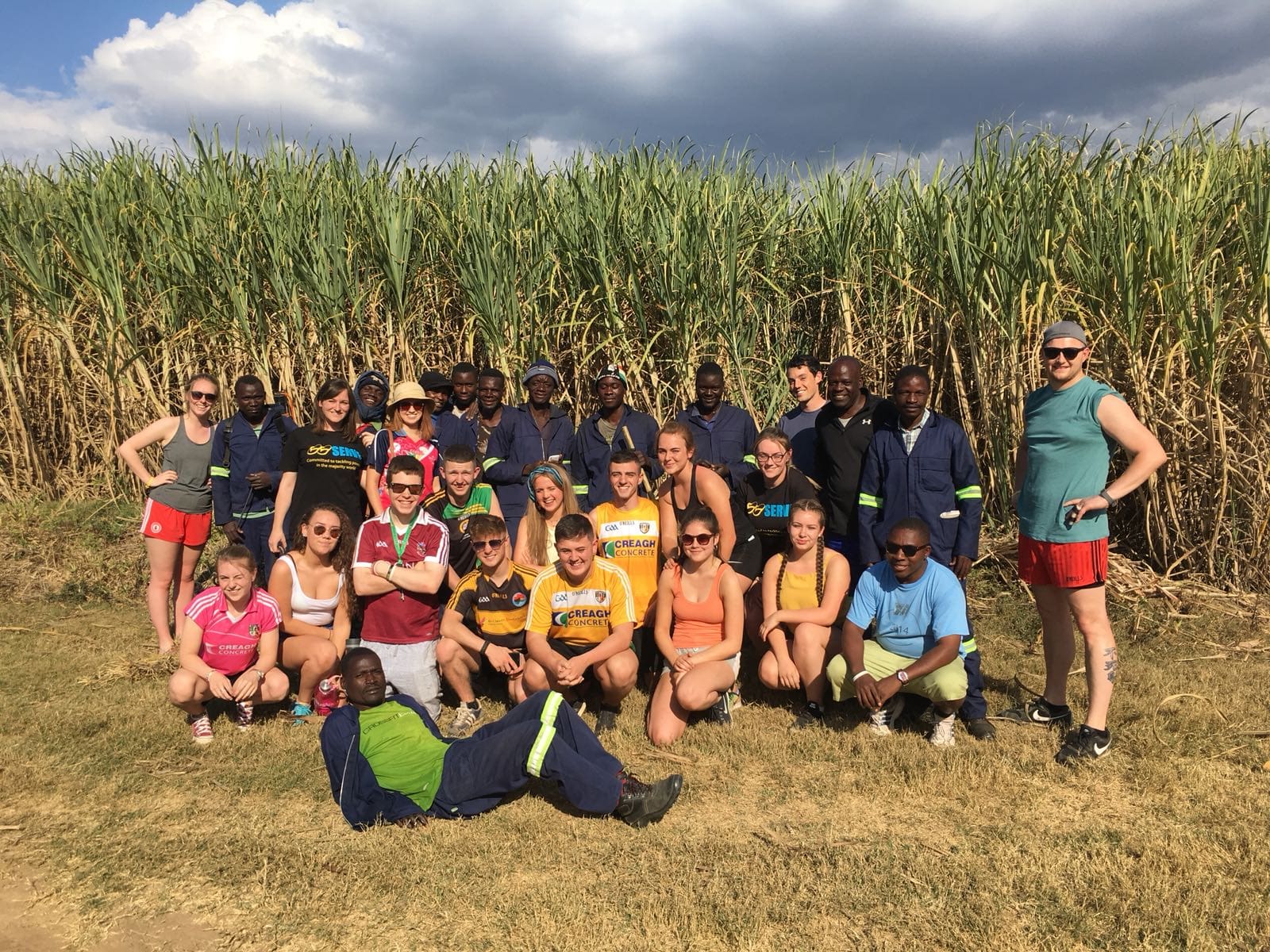 Coláiste Feirste i Saimbia
Le Tuán Ó Ruanaidh agus Dubhaltach Mac Conmidhe
Thurlaing muid in aerfort Lusaka tráthnóna álainn Dhéardaoinn i ndiaidh turas fada ónár mbaile aoibhinn féin in Éirinn. Lean aistear chrua ar bhus muid ón aerfort go dtí ár ndúiche nua i Mazabuka ina raibh muid briste breoite brúite ar feadh cúig uaire ag an mhíchompórdachas áfach bhí muid dallta ag an choiríochas beag beann ar seo ag an áileacht ina raibh muid sáite báite inti agus an dúshlan a bhí romhainn. Shroich muid 'The Good Samaritan House' tuirseach tríochta agus ocrach agus ba mhór an tonn faoisimh a bhuail muid nuair a cuireadh béile blasta ós ár gcomhair . Bhlas muid bia an phobail áitiúl den chéad uair, nshima, agus is ansin a fuair muid spléachadh ar aiste bia cobhsaí na tíre agus deisceart na hAfraice ina iomláine- léargas de chinéal ínteacht ar chultúir an tsochaí ámh fosta macnamh ar an chruatán a bhíonn á fullaingt ag bochtáin na tíre a bhíonn go hiomlán spléach ar an bhia neamh-chothaitheach seo.
IS follúsach a rá go bhfuair muid ár sáith codlata an oíche sin! B'éigean dúinn an oiread
tairbhe agus a dtiocfadh linn a bhaint as an chompórtachas as siocair an eachtra go doimhneacht na feirme a lean. Spreagadh muid nuair a tugadh ann muid ar chúl truccail faoin spéir agus shonraigh muid an tírdhréach ghleoite ghalánta a bhí timpeallaithe thart orainn. Bhain muid an fheirm amach agus d'ardaigh muid na pubaill uilig gan streo sular thug muid faoin obair chrua a bhí le déanamh againn. Sa chéad dul síos bhánaigh muid talamh an fheirmeora le huirlísí áitiula, Panga, agus reitigh muid cadas sa mhullach ar sin agus fuair muid eispearais ar shaol na n-oibrithe a bhíonn fágtha fuar fann folamh ag sclábhaíocht na saolta seo tríd $0.30 a shaothrú in
aghaidh an mhála cadaise rud a ghlac na huaireannta orainn déanamh. Is cinnte go ndeachaidh an léargas seo i bhfiedhm go suntasach ar achan duine againn agus is cinnte gur leag an eispearas seo tionchar nach beag ar ár n-aigneacha aineolacha. Thug muid cuairt ar fheirm eile a bhí sa cheantar máguaird agus shonaraigh muid nósanna tairgithe an úineora. D'ith muid go flúirseach i ndiaidh na hoibre díograsaí agus chaith muid an oíche i gcuideachta a chéile cruinnithe timpeall tine teolaí agus muid ag roinnt craice, comhrá is cuideachta a chéile. D'fhullaing muid níos mó oibre i gcuibhreacha na teasa marfaí sular fhill muid ar ár dtearmann fhailtiúil féin i Mazabuka sular tugadh deis dúinn dul ag siopadóireacht sa tsráidbhaile agus idir mhargadh na mbochtáin agus na ndaoine saibhre a shonrú. An lá arna mhárach bhí an deis againn léargas a fháil ar chur chuige na heaglaise Chaitlicí anseo sa Zambia. Milleadh ag dhá uair an chloig de cheol ón chór agus teachtaireachtaí críostíochta an tsagairt ón chrannóg agus é ag cur fearadh na fáilte romhainn. Ina theannta seo tugadh go dódh plota Cana siúcra muid agus arís tugadh spléachadh eile dúinn ar thionchar na sclabhaíochta sa domhan truaillithe seo agus an bhunoibrí sa timthriall lofa cánach seo ag saothrú níos lú na ceithre phunt in aghaidh an lae. Sin ráite, ba dochréidte a bhí an eispearas. Cuireadh críoch leis an lá iontach seo le cluiche peile in éadan muintir Zambia agus ba áthasach a d'fhag an bhua chonspoideach muid. Ba neamhbhuan ár gcuid fuinnimh óir b'éigean dúinn múscailt ag deargú an dá néal ar maidin le dul i mbonn réimse de dhualgaisí péintéireachta ar mhaithe le scoil agus bacús áitiúil agus is seo a bheas amhlaigh go gceann cúpla lá, áfach is ar mhaithe le muintir na háite atá sé agus iad siúd nach bhfuil faoi na coinníollacha maireachtála céanna is atá muidne agus mar sin is sásta atá muid an íobairt a dhéanamh ar a son. Tá muid uilig in ann spléachadh a fháil ar scoil sa cheantar agus saol oideachais na n-óganach a shonrú sa bhreis ar saol na scoile míchumasaí sa liméistir chomh maith. Tá muid ag baint an-suilt as ár gcuid ama i Mazabuka agus tá mé dóchasach go mbeidh neart eispearais eile ag teacht chun cinn ón aistear spleodrach speisialta seo. Ní saoirse go saoirse an chine daonna.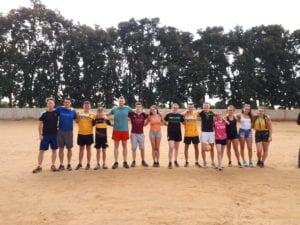 We landed in Lusaka airport in the middle of a sunny Thursday afternoon after a long journey from our homes five thousand miles away in Ireland. A long five hour journey on boneshattering roads followed to reach our home for the week in Mazabuka but the beauty of the Zambian countryside made up for it. We arrived at the Good Samaritan community house a few moments after sunset to a fine welcome from the residents but such a welcome wasn't enough of a substitute for the dinner that would be set out for us once we had settled in. With dinner we had our first taste of not only the local staple food but the staple food of the entire region of Southern Africa – nshima, made from ground up corn. It provided us with an opportunity to reflect on the culture where a lot of the population can only eat low nutrient foods similar to nshima. Fed and watered we happily went to bed and quickly fell asleep. The next morning we were treated to a lie in to nine and we awoke to a lovely breakfast. We packed our backpacks and left for the farm in the community trucks. After an hours journey where we enjoyed more of the lovely Zambian countryside, we arrived at the farm and set to work setting up our tents. We worked out how to set them up without much difficulty and then we were tasked with clearing a part of the farmers land using a local tool,called a panga. After we finished that, we sat down to a well deserved lunch of cheese and tomato sandwiches. We then set to work picking cotton which afforded us an opportunity to reflect on the life of workers whose jobs it is to do this day in day out, only getting £0.30 per full bag. We then set off for a neighbouring farm a fifteen minute walk away, stopping the local well on the way to cool down.
At the neighbouring farm we were able to see local approches to not only the Zambian farming culture but Zambian family culture as well. We returned to our home farm where we spent the night around the campfire eating our dinner of pasta and tomato and finishing with a dessert of marshmallows roasted over the open fire and having the craic with each other! The next morning we did another wee bit of cotton picking under the searing heat of the sun and then we left for home in Mazabuka. On Sunday morning we had a chance to experience a Zambian church during a two hour mass in Tonga that was full of music. We had a hard time guessing what prayer was being said in Tonga! At the end of the mass we were welcomed to the parish by the priest. We then paid a visit to a local sugar cane farm where we witnessed them burning the canes to make it easier to extract the sugar from it in the processing plant. In the evening, we had an Ireland vs Zambia soccer match that ended controversially!
We were tired out by the match and all had a good nights' sleep to wake up an go to work the next morning. We were separated into a few different groups, two groups were painting, a group went to Flamboyant special school and the last to Luyobolola school. We got an insight into the education system in both a normal school and a special school and how it compares to the education system back home. We've enjoyed our time in Mazabuka so far an I'm certain that we'll enjoy the rest of our time on this amazing experience.
https://serve.ie/wp-content/uploads/2018/06/WhatsApp-Image-2018-06-24-at-2.12.52-PM-1.jpeg
1200
1600
Serve
/wp-content/uploads/2019/11/serve-logo.png
Serve
2018-06-26 19:03:42
2018-06-26 19:07:35
Coláiste Feirste i Saimbia