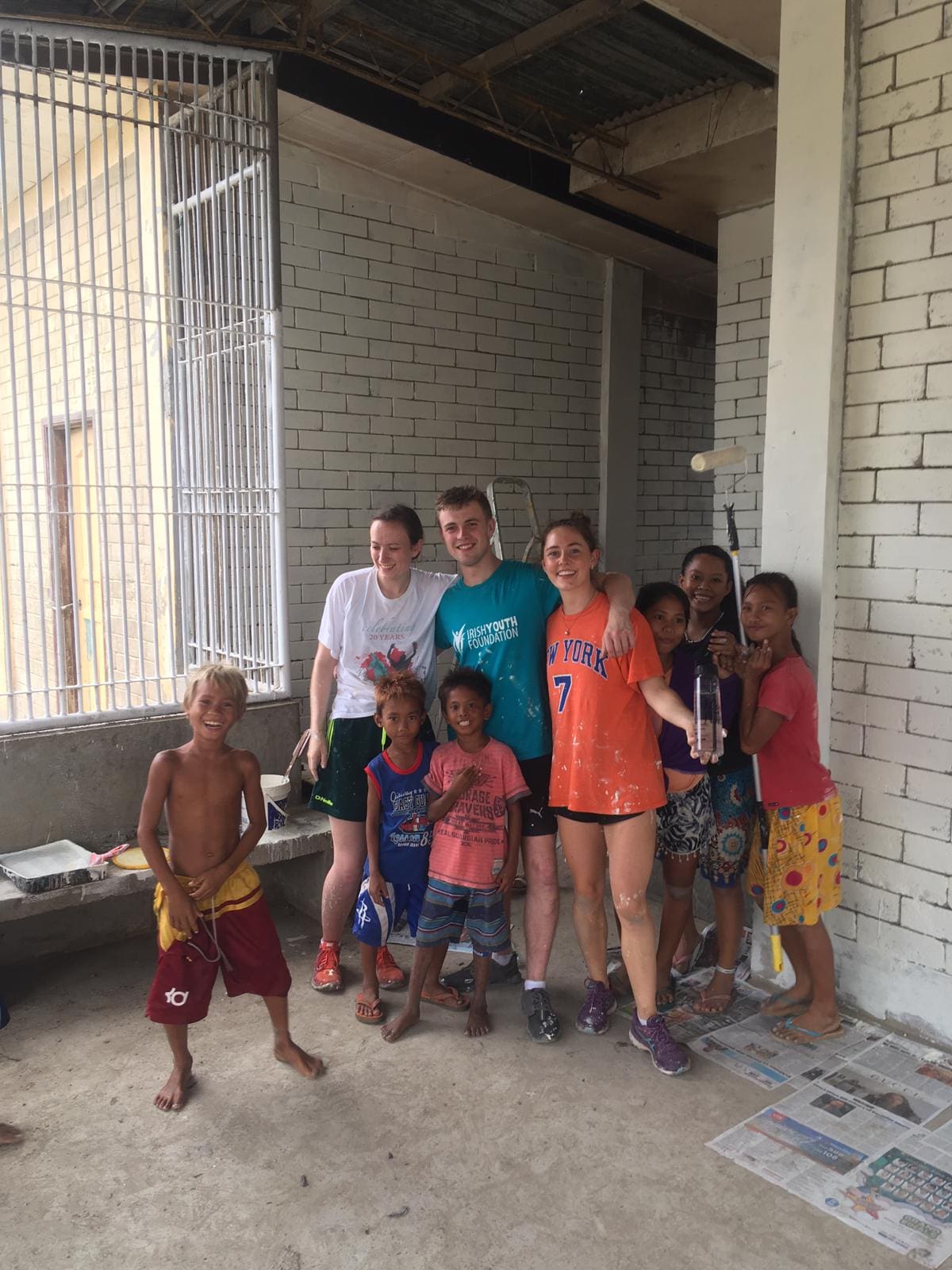 The Impact of SERVE from Past to Present
By Doireann Hughes
I first heard of the Irish Organization, SERVE – Solidarity In Action, from our school chaplain Fr.Micheal Murphy. Fr. Murphy encourages students to volunteer with SERVE, by sharing stories and photos from his past volunteering experiences in Cebu, Philippines with the Badjao tribe.
Our first day visiting the Badjao Tribe, we trolled along the busy, narrow streets. We passed a number of food stalls, pedicabs and small shops selling a variety of goods. A concoction of pungent smells, from sewage and fish markets, filled the air. The Cebuanos living in the area were fascinated to see a group of foreigners walk their streets. We were welcomed into the Badjao community by young joyous kids yelping, "SERVE!", others pointing and shouting "melikan", which translates from Badjao, as "foreigner".
The Badjao are an indigenous tribe with their own unique culture, language and rituals. They are often ostracized from society in Philippines and are often viewed by other Filipinos as "dirty", "lazy"and "worthless". 
For centuries, the Badjao lived a nomadic seafaring life by fishing and trading throughout the islands of the Philippines. Some lived in houseboats and others lived in small houses on stilts over water inlets and travelled around in handmade fishing boats. As a result of piracy, pollution of the sea and over-exploitation of fish, it became more difficult for the Badjao to earn a living from their livelihood. 
In the 1960s, ten Badjao families moved to Cebu due to an increase in piracy. In 1997, Sister Evelyn, a Sister of the Presentation Blessed Virgin Mary and Fr.Frankie Connor, a Redemptorist Missionary were working in Cebu. They became acquainted with the Badjao tribe and worked with Tribal Chief, Roberto Samasana. At the time, 97% of people were illiterate, therefore Roberto's main priority was to educate his people. They introduced education and learning into the community by the initiation of adult literacy classes and the establishment of a creche school. 
SERVE has worked in solidarity with both the Presentation Sisters and the Badjao Tribe, since 2003. Past SERVE volunteers have provided educational support and funding for essential educational equipment and the capacity building of local teachers so as to boost the educational and literacy performance of young Badjao children.
One of the eldest Badjao members, Nanny Thelma, aged 59, shares her first memory of SERVE in 2003. Her face lights up, she recalls SERVE volunteers teaching Badjao kids to play music. Music class resided on the side of the road, and would often be disrupted by passing cars. The resources were limited, with only one instrument available – the tambourine. This is in sharp contrast to the current music class,  that has a number of different music instruments including that of a ukulele, a classical flute, 20 recorders, and even a kahuna. 
Life in the Badjao community saw great progression until 2005, when disaster struck. A fire wiped out the entire community's prosperities. SERVE volunteers helped revive the Badjao community by erecting makeshift tent houses while new brick house were been built. 
Nanny Thelma expressed that the tribe are forever grateful for this act of kindness. She reassured me that, SERVE provided a source of "hope" and "inspiration" for families that lost everything. "SERVE inspired teachers, students and children in the community, especially at a time in their life that lacked it."
Sister Evelyn worked tirelessly with the community to meet these new challenges. With assistance from foundations like SERVE and many donors from Ireland, she raised funds to build the Nano Nagle Child and Learning Center in 2008. Now, four of five teachers in the Centre are Badjao. This is evidence of the success of the centre. 
In addition to educating the Badjao people, SERVE empowered and encouraged them to recognize their value in life and help to raise their self esteem. The Badjao people are often in disbelief that Irish volunteers would travel 12,000 km to offer their time and money to help them. The presence of SERVE volunteers alone instills a belief in the community, a belief that their voice and opinion is valued. This is of upmost importance, as the Badjao live on the fringes of society. A society, where they are often refused entry to clothing stores and denied access on local transport, "Jeepneys". 
When you look around the Badjao community, it is evident that SERVE is responsible for much of the development in the Badjao community. You see young children running around with outdated GAA jerseys, you see artistic paintings on the walls of the Nano Nagle Centre from past SERVE volunteers. Above all, you see the joy and happiness that volunteers bring to the children each and every day. 
SERVE still holds an important place in the community to thrive in the future. The value of education is put on a pedestal within the Badjao community. Teachers and students are still as motivated and eager to learn as they were since the programme began. SERVE volunteers will continue to contribute by facilitating music and art workshops and youth leadership training programmes . 
https://serve.ie/wp-content/uploads/2019/07/image1.jpeg
1600
1200
Serve
/wp-content/uploads/2019/11/serve-logo.png
Serve
2019-07-17 13:26:45
2019-07-17 13:26:45
The Impact of SERVE from Past to Present