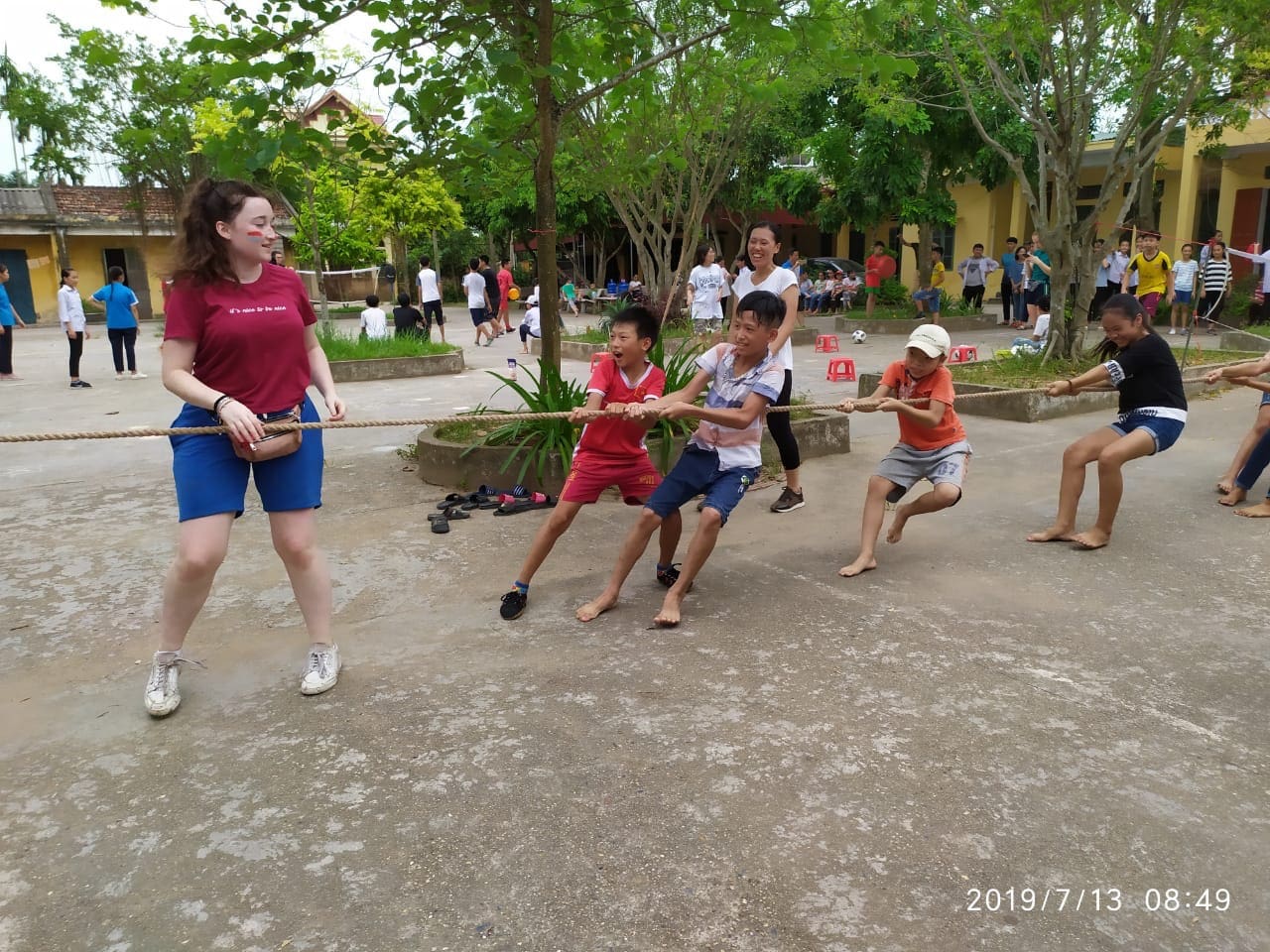 By John Reilly
As part of our volunteering programme in Vietnam, we are heavily involved in the education in the local school. This will last for the period we are here and we aim to be as active as possible. Teaching in these classes can offer a variety of different experiences as the ages range from 6/7 year olds to 16 year olds students. Whilst the majority of this involvement is teaching English to 12 classes of roughly 30 students a day, every day, we also offer an extra curricular option after school everyday of music, art, dance and sports. This option proved very popular amongst the students as during their normal school time, they don't get to do such activities. They go to school from 7:00-11:00, go home and spend the rest of the day helping their family and studying alone at home. Having hobbies was not really an option for most of the children. It was then decided that we would offer these students an opportunity to enjoy a day entirely devoted to sports for them, so that they could enjoy some time free from work and school to let the kids, be kids.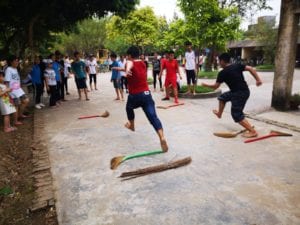 On Saturday the 13th of July, we offered our students a unique experience of being able to have a sports day amongst the pupils. A 6:00 start for the volunteers was needed as the day had to be finished by 12, before the 40* degree heat of the Vietnamese sun beat down on the children. We spent the first hour or so of the morning setting up the school to be ready for the kids and fully kitted out for all the sports. An idea so basic at home was almost unheard of here and by the time we started at 8:00, we had 120 students ready and eager to play, compete and have fun.
We offered them the chance to play such stalemates of Irish sports days such as football, races, skipping, tug of war, dancing, obstacles courses, volleyball, balloon bang and sticks. Our volunteers divided the school courtyard up so that every activity had its own area each. In order to make the day run as smoothly as possible, we had each group split up by face paints into separate teams that were paired together for the whole day. This kept them competitive as they were playing against each other all the time. It also held them in the same games so there was less of a chance of chaos when they moved games.
Throughout the day, seeing the kids enjoying themselves and experiencing these new games was a joyful feeling because of how rare this would be for them. These kids got to have a chance to enjoy themselves that they wouldn't have gotten otherwise. We came away from our day fulfilled that even by such a little act, we had made such a difference in these kids days. 
https://serve.ie/wp-content/uploads/2019/08/428ef577-7a0d-4431-b588-7224ca80553b.jpeg
960
1280
Serve
/wp-content/uploads/2019/11/serve-logo.png
Serve
2019-08-26 13:37:14
2019-08-26 13:37:14
Sports Day in Vietnam