The comparison of teaching a second language in a Vietnamese and an Irish Primary School
By Rachel Hayes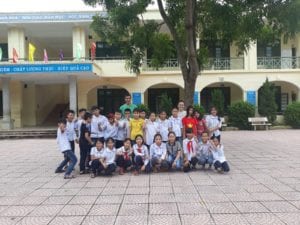 Coming to Vietnam with SERVE to work in partnership with the CSDS (Centre for Sustainable Development) as a volunteer this summer, has so far been an eye opening and wonderful experience. As educational development has been highlighted as a key issue to address here in Vietnam, we have been conducting summer English classes referred to as the 'New Horizons Project' in a school here in Quoc Oai, a semi-rural area of Hanoi, to allow children in the community free access to extra English classes.
As an Irish student primary school teacher, it has been amazing to experience teaching in a completely different culture at the other side of the world and so I thought it would be interesting to share my own perspective on how teaching English as a second language in Vietnam compares to teaching Gaeilge as a second language in Irish primary schools.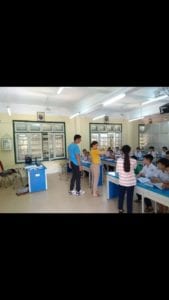 Firstly, there are of course differences between the two, which is to be expected between teaching in two different culture contexts. For me, one of the main challenges here when teaching English is the availability of resources. The classrooms all have a blackboard, and some have projectors but there are no extra "concrete materials" as us teachers would refer to, which are plentiful at home and used daily during Irish lessons. But here it just means that as teacher you need to be more creative with the resources that you do have and spend even more time planning how to make your language lesson as fun and engaging as possible with whatever is available. With SERVE we have been able to purchase some resources and materials for lessons in the close city of Hanoi, as the New Horizons project doesn't receive any government funding.
Another thing that stands out for me is the enthusiasm that all of the children in the school here have towards learning English. A lot of excitement arises every morning when we arrive to the school – the novelty of foreign faces is the biggest reason for that I am sure! But all of the children have such eagerness to learn English and put in a big effort to use the language, even outside of the classroom, with regular shouts of "hello" and "how are you" coming from the school yard and even on the streets of Quoc Oai here in the evenings. I think that perhaps in Ireland we take for granted the availability and accessibility that we have, to learn Irish. Here, learning English is so important to the students that they are happy to sacrifice time out of their summer holidays learning the language. Their passion to learn is infectious and inspiring.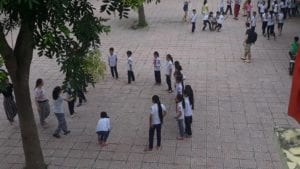 But what is obvious to me more so than any differences between teaching English to Vietnamese students and teaching Gaeilge to Irish students is the similarities. I have realised that no matter where you are in the world, children are children. They are naturally curious, need to be taught at the correct level, need to be motivated and they learn best when doing topics that they are interested in. In Ireland, teaching Irish is always done most successfully through a fun and engaging lesson with games and activities. And the same goes for children here. The children in my English class are big fans of 'Frozen' so when we did a lesson on learning the words of and singing 'Let it go', an extra big effort was put in to ensure they could all sing the chorus correctly and pronounce the words – and they sounded terrific!
As a future educator it is inspiring to see children so eager to learn and it has definitely made me reflect on my own teaching at home and how lucky we are to give students at home so many opportunities to access learning in so many ways. I am grateful to be able to work alongside SERVE in giving the Vietnamese students here in Quoc Aoi the opportunity to improve their English skills which aids the development of their education. I am looking forward to the remainder of the volunteer experience here in Vietnam, what we can offer to the local community and what we can learn ourselves.
https://serve.ie/wp-content/uploads/2018/07/2000px-Flag_of_Vietnam.svg_.png
1333
2000
Serve Solidarity
/wp-content/uploads/2019/11/serve-logo.png
Serve Solidarity
2018-07-31 08:54:20
2018-07-31 08:54:20
The comparison of teaching a second language in a Vietnamese and an Irish Primary School