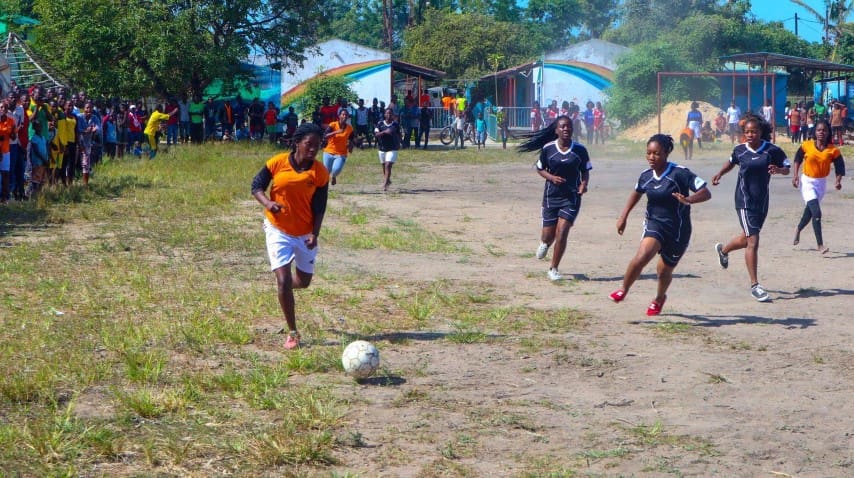 By Cormac McCarthy-Hann
Mozambicans don't do hopelessness. A conversation with a Mozambican of any age, gender or socio-economic background will make it abundantly clear that hope is at the heart of everything they do. To be hopeless in Mozambique is to be an anomaly. In the aftermath of Cyclone Idai, which devastated the vitally important port city of Beira, one would expect the already destitute people of Mozambique to be terminally melancholy. This is a country which in 2017 was ranked 3rd in the world for deaths due to HIV/AIDS, placed 11th in the world in 2018 for infant mortality rate and was 218th globally for average life expectancy at birth. Combine these statistics and the conditions necessary for their attribution with a major weather event more destructive than any previously experienced in the South-West Indian Ocean Basin. What you get when the two are mixed is a not a place of despair and self-pity as would be natural to assume, but a country with a young and ambitious population eager to make the best of any opportunity that comes their way.
The campuses of Young Africa Beira and Dondo are brimming with hopeful and highly aspirational youths and my daily conversations with them are the reason and basis for this blog. They are the embodiment of hope in a place where very little should exist. The students I spoke to aged between 15 and 29 and they all had the same goal; graduate from their course, find a job that pays enough for them to support their family, and ultimately ensure their children's standard of living is better than their own. One such example was a 16-year-old boy called Omega. I met Omega at an English class which we were invited to by an eccentric teacher named August. To begin the class, Omega was asked by his teacher to explain the use of personal pronouns and without hesitation he rose from his chair, took up the chalk and started scribbling and speaking with remarkable fluency. He confidently gave examples and pointed out common mistakes to his fellow students, some of whom were several years older than he was. When his lesson was over, he was given a well-deserved round of applause as he retook his seat. After Omega's short lecture, August asked us to form pairs with the students next to us and speak a few short sentences about where we were from, what our pastimes were and so on. A fellow volunteer was paired with Omega and with the minimum of encouragement Omega began to tell his partner all about himself. He began by saying that he lived near the Young Africa campus and that he walked there every day for English lessons. His nieces were dependant on him to make their meals and bring them to and from school. He had been studying English since he was 13 and he spent most of his spare time teaching himself (it was plain to see he was much brighter than most others in his class and of his age). His dream was to move to Maputo and study dentistry in the university there and to get a job that pays enough for him to be able to support his struggling family. His concluded his inspiring story as the class ended and as we left the room, we wished him the best of fortunes in all his endeavours.
Omega is no outlier. A young man named Manuel worked with us for the entirety of our trip and his story is strikingly similar to Omega's. Manuel was studying construction and hoped to graduate in July of next year. He stood out from the start as energetic and outgoing, taking to every task with zeal and verve. He stayed behind after work several times to teach us how to dance to his favourite artist, Michael Jackson. Speaking to him before the graduation ceremony for this year's crop of students, I asked him about his family. He said that his mother, father and one of his three sisters were all dead. He and one other student now share a living space separate to their family homes. I did not ask how they died. As with Omega, Manuel's story is not unique. The other boys and girls we worked with had similar stories and their own aspirations which, because of Young Africa, were genuinely reachable.
It is obvious to see that Young Africa's centre in Beira is not a true representation of the wider Beria area. Most Mozambicans will not attend school for longer than 10 years. Plainly, this is a great injustice and a waste of untapped potential. Those who so study and graduate from Young Africa provide opportunity for the less fortunate. They set up auto mechanic shops, become successful electricians, start bicycle repair shops, work as chefs in kitchens and follow many more noble pursuits in their communities. All of this generates wealth for the locality and indirectly raises the living standard for those who have not been so lucky to attend and complete such courses. Graduates from Young Africa not only bring hope to their families, but also to their neighbours.
As I sit at my desk writing this blog, thinking about the past month, I can't help but be excited for the future of Mozambique. A small cohort of bright-eyed and hard-working young men and women are beginning a journey that will bring small improvements in each of their towns and villages and although the improvements are small and the progress is piecemeal, little by little they carve a path for the next group of enterprising youths with unshakable hopes and soaring dreams. As for me, I take a leaf from the book of Omega, Manuel, Salifa, Joel and so many more when I say that I hope Young Africa continues its work for as long as possible because the appetite for education and progress is one that I cannot see being sated for a long time.
https://serve.ie/wp-content/uploads/2019/07/WhatsApp-Image-2019-07-14-at-13.33.59-1-1-Small.jpeg
478
854
Serve
/wp-content/uploads/2019/11/serve-logo.png
Serve
2019-08-14 18:49:53
2019-08-14 18:49:53
The Dreams of Youth