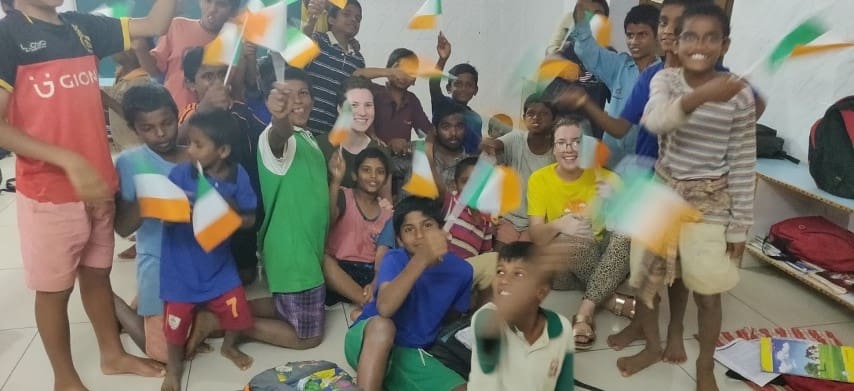 By Amy Considine and Aisling Moran
The first week has opened our eyes to life in an Indian care home and challenged many of the stereotypes we had coming. The boy's kindness, selflessness, and generosity to us and each other is eye opening.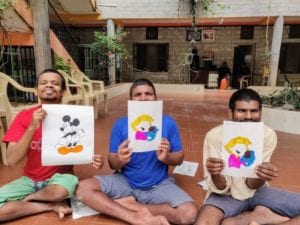 It is easy for us in the 'Western' part of the world to quickly disassociate ourselves with those who may have vastly different cultures than us. However, within a few hours in Morning Star, we realised we are no different. We joke in the same way, follow the same rules in the playground, and show the same respect.
This magical place has welcomed us by stretching out all 160 hands and hugging us tightly. Our laughter and joy is all shared throughout and rings like a beautiful song, echoing through the hearts and minds of every individual. The way in which they hold hands and immediately open themselves up to you demonstrates that each person is deemed a best friend. Everything is based on love. There is no desire to attain possessions, instead the focus is on relationships.
Our days are split into three parts. In the morning, we spend time with the boys and men who live with disabilities. In the few days, we have been here we have realised their comprehension and capabilities. It was surprising for both of us that simple art classes bring so much joy to them. Some may not be able to express themselves verbally, but their joy is felt and expressed through their beaming smiles.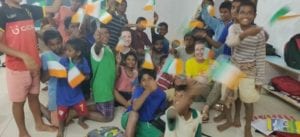 Under the shade of the garden trees, we help the young boys with homework once they return from school. Father John encourages each boy to work hard. They take turns to read, and persist despite difficulties. Later, we go to the 'ground' as it is time for sports. It is here we realise that no matter where you are in the world, the same rules apply in the playground. The sound of games starting and ending at rapid speed is deafening, but you find yourself laughing through it. Injustice is felt just as strongly here as back home, as tears and truces are mixed into the fun of soccer and relays.
As evening comes, the boys wash and we all go to prayer. The silence is profound. Their understanding that they must sit and be still is admirable, especially as the rest of the world craves time for meditation. These boys are learning from an early age that quiet time must be built into every day. Once the signal is given that prayer has finished, the boys take our hands and say, "Auntie come". We know the day is coming to an end and it is time to eat with the little boys with big hearts.
https://serve.ie/wp-content/uploads/2019/07/ms2-Small.jpg
391
854
Serve
/wp-content/uploads/2019/11/serve-logo.png
Serve
2019-07-26 02:46:06
2019-07-26 02:59:58
Morning Star Week 1