#SERVEvols: Update from the Philippines
By Mary Mullarkey and Claire Naughton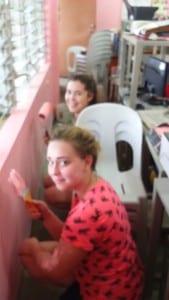 It's our second week of four here in Cebu and each day our love for the Badjao extends beyond our wildest dreams. We've become more and more dedicated in completing the goals with the time that is left.  Our dedication even extends to painting the dreaded "edges" and having a paint fight or two!!
We feel the love and commitment that the teachers show to their students. This is clear when all the three classes were joined together as one, where songs and prayers were shared in solidarity. The teachers have even chosen songs, especially "slippery fish" to represent the culture and traditions of the Badjao community.
Motivation extends to the Adult Development Programme, who learn new skills and extend their knowledge. One particular student was able to complete a subtraction sum through peer modelling.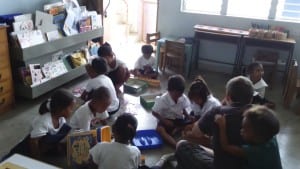 Our music workshops have become a joy to be part of. We've witnessed the creativity of the elementary and high school students composing their unique group songs. This gives us an insight into their lives and dreams for their future.
However as our amazing journey here in Cebu is coming to an end,  it's going to be difficult to say goodbye to the Badjao who have welcomed us to be part of their family.
https://serve.ie/wp-content/uploads/2015/07/Philippines-header.jpg
315
851
Serve Solidarity
/wp-content/uploads/2019/11/serve-logo.png
Serve Solidarity
2015-07-22 11:03:45
2015-07-22 11:17:40
#SERVEvols: Update from the Philippines