International Day for Women and Girls in Science
This International Day for Women and Girls in Science, is an opportunity for us all to stand in solidarity for girls and women in science. As girls continue to face stereotypes and cultural restrictions, their access to education and research is limited which prevents them from scientific careers. This also limits girls from reaching their full potential. Today, we are sharing Isabella Ekongo's story who has gone against the cultural and traditional norms, and has built her own future in solar technology.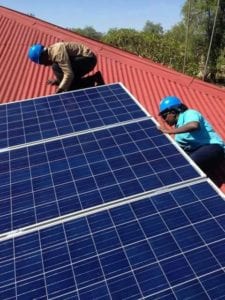 Isabella (pictured training at Young Africa) studied Solar Technologies at Young Africa Namibia. After graduation she was immediately recruited by Light Systems Namibia as solar installer. Currently she is manager of their office in Ongwendiva.
Young Africa provide life skills and employable skills training and education to give youth an opportunity to live independently. With a specific focus on empowering girls, Young Africa provide a hostel at their Chitungwiza (Zimbabwe) and Beira (Mozambique) campuses to ensure that those who are most vulnerable can have a safe place to stay while studying at Young Africa. A social worker and a night matron guides them throughout their time at Young Africa. In the past, SERVE volunteers have spent time with the girls in the hostel where they have facilitated art, music and drama workshops in the evenings. There is also a hostel on the Dondo campus (Mozambique), offering a safe space for young people who travel from all over the country to study at the Agri-Tech campus.
Read more success stories from Young Africa:
Read about Giveth Mambo a female mechanic breaking barriers and challenging stereotypes in Zimbabwe here >>>
Read about Jonathan who completed his training at Young Africa and is now an assistant teacher in Namibia here >>>
Read about the cafe at Young Africa Mozambique which employs graduates and trains students in catering here >>>
Read about Young Africa Namibia shining a light on Namibia's youth through solar technology training here >>>
/wp-content/uploads/2019/11/serve-logo.png
0
0
Serve Solidarity
/wp-content/uploads/2019/11/serve-logo.png
Serve Solidarity
2017-02-09 11:51:08
2017-02-09 11:51:08
International Day for Women and Girls in Science