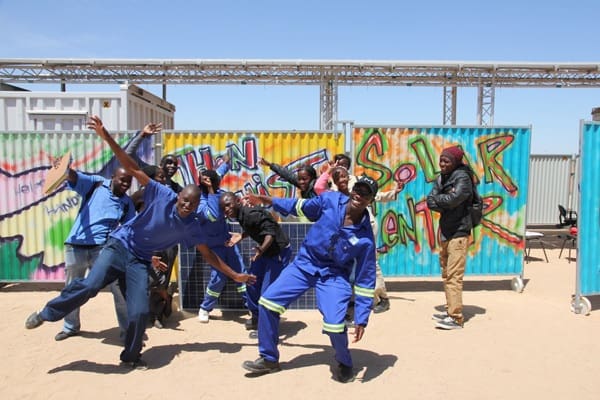 Young Africa Namibia – Business Plan Developer required (3 months)
Volunteering Opportunity with Young Africa Namibia – Business Plan Development
(i) Introduction
SERVE (www.serve.ie), an Irish based NGO, works in partnership with Young Africa Namibia (www.youngafrica.org/namibia) who provide holistic vocational training to marginalised young people with the aim of improving their employment and income generating skills. Young Africa (YA) Namibia specialises in training in innovative green technologies – at the moment they provide high quality training in Solar Technology to young people.
In addition to upscaling this work, YA Namibia is exploring new training opportunities so that more young people can benefit from Young Africa's expertise. In addition to the regular training programmes, YA aims to facilitate life skills and entrepreneurial training sessions in local companies who employ young people. YA Namibia is also interested in using its two training centres as venues for provision of ILO Master Training in the "Start Your Own Business" and "Improve Your Business" programmes.
(ii) Objective of Assignment
Young Africa Namibia are searching for a Business Development Professional to develop a comprehensive Business Plan for their current & future programmes in Namibia. The main tasks include:
Reviewing and critically analysing the elements of their current business and growth areas;
Evaluating their funding decisions;
Examining the consequences of pursuing different strategies;
Developing a Business Plan and associated budget forecast
The Business Plan should offer the following benefits:
Evaluates the business training opportunities that are available to YA Namibia and guides their new training and business ideas;
Communicates the new Business Training ideas and goals to decision makers, employees of external companies and other interested parties;
Outlines the strengths of their Training Programmes for businesses;
Identifies existing and potential challenges and highlights vulnerabilities;
Provides necessary information for stakeholders to evaluate YA's Strategy;
Helps YA Namibia to develop a robust overview of income and expenditure for different training models, and
Serves as a tool to measure the performance of YA Namibia
(iii) Timeline & Length of Assignment
The expected timeline of the assignment is 3 months, with approximately 3 weeks spent in Namibia, working directly with YA Namibia staff & other stakeholders, and the remainder of the time spent in Ireland to complete the assignment. It is expected that the assignment will start in the first quarter of 2016.
(iv) Candidate Profile – Professional & Personal Skills
Masters Level Qualification in a Business Related Discipline;
Skills in entrepreneurship, business strategy / development / planning/ marketing, financial analysis and budgeting;
Experience in developing Business Plans;
Interest in international development and sustainable development;
Willingness to travel to Namibia for approximately 3 weeks;
Ability to work on own initiative and work remotely for part of the assignment; and
Flexibility and adaptability to working in a difficult environment when overseas
(v) Terms & Conditions
This is a voluntary position but SERVE and Young Africa Namibia are providing the following support:
An appropriate allowance for the length of the assignment;
The cost of one return flight from Ireland to Namibia;
SERVE will provide comprehensive pre-departure training to the chosen candidate before they visit Namibia;
Travel insurance and medical costs for the visit to Namibia;
Travel costs within Ireland related to the assignment;
Accommodation, food and travel costs within Namibia will be covered by YA Namibia;
SERVE and YA Namibia will provide on-going support throughout the process
(vi) Application Process
Interested candidates should respond to john@serve.ie with (i) Letter of application (max 1 page); and (ii) CV (max 3 pages)
The closing date for applications is December 4th 2015
https://serve.ie/wp-content/uploads/2015/11/YA-Solar-technology-students.jpg
400
600
Serve
/wp-content/uploads/2019/11/serve-logo.png
Serve
2015-11-13 10:17:35
2015-11-13 10:17:35
Young Africa Namibia – Business Plan Developer required (3 months)