Gender Equality in Vietnam
By Saoirse Power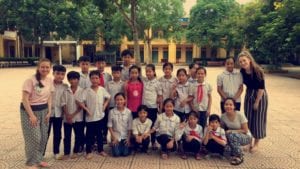 As "Westerners," we often view impoverished countries through tinted glasses from the stereotypical perceptions we're introduced to by the media. When we think of women in 'third-world' countries, we often envision child brides, girls being forced out of education at horrifically young ages, and women who are rarely allowed lead any kind of life other than being a Mother. However, the idea that women are second-class citizens; uneducated and living without proper freedoms appears to be as far from the truth as possible for the younger generation in Vietnam; although at times I have seen stark gender stereotypes being reinforced through sport, politics and especially through the older generation.
Vietnam is considered by the UN as having a strong track-record of reducing gender inequality and promoting women's empowerment through education, employment opportunities and legislative frameworks against domestic violence. However, the UN also notes that significant obstacles stand in the way of women's freedoms in everyday life, especially for older generation women. This fact is something that has been greatly reflected in the gender roles of the elderly women we have observed thus far in Vietnam. Our time in Quoc Oai, a small community on the suburbs of the city of Hanoi, has most definitely at times portrayed a picture of gender inequality. Walking the narrow and small street to our house everyday brings with it scenes of women cutting, slicing, peeling and preparing meals for their household from the early hours of the morning until late at night. These women chat and talk to one another, as this time spent preparing food for their family is a type of social event for them. Many of the local women work in Quoc Oai's local markets however, where they sit and work from dusk until dawn to sell their
produce. Although over 72.6% of women over the age of 15 participate in Vietnam's labour force, their wage is almost 50% lower than their male counterparts; a stark and unsettling difference. Women work not only in the local markets, but also in job sectors that would be predominantly male-orientated in Ireland and other 'first-world' countries. On numerous occasions we have seen women work on construction sites, or out in the rice fields. Women often work as both mothers and in laboursome jobs, and the fact that they often receive wages that are almost 50% less than their male colleagues is horrific. Just like Ireland, it appears Vietnam has a long way to go in achieving gender equality in the workplace.
Through education, gender inequality appears to be greatly reducing in Vietnam though. We have seen the perfect portrayal of this through the presence of Thuy Nguyen and Huyen Nguyen as our wonderful guide, translators and friends out here. They are just two of many young, educated and inspiring women who work for the Centre for Sustainable Development Studies (CSDS) in Vietnam, an organisation that works on the ground with local communities to promote youth leadership, English speaking and the importance of education. Both women have a university degree, are fluent in English, and play a vital role in their community. Without women like Thuy and Be, the local community in Quoc Oai, Hanoi wouldn't receive free English speaking classes for children and workshops that promote team building, among many other things. These women are inspiring, and light the way for other young Vietnamese children, both boys and girls, to better their lives through education.
Ensuring their children receive an education is undoubtably the most important priority parents have for their children's lives in Vietnam, including prioritising young girls' education. It surprised me just how many girls in my English lessons in the local school in Quoc Oai could confidently speak English and were so motivated to better their pronunciation and writing skills. The young children, both boys and girls, are so enthusiastic, appreciative and excited to see us each day and learn new words and phrases. Looking in as an outsider to this small school, I would never have guessed that a gender imbalance existed in this country. Both boys and girls of this generation appear to be given equal opportunity and support in education to learn and develop skills that will aid them to a successful future career. After speaking to the women of CSDS, this view was reflected. They believe that today, opportunities for young boys and girls in education is almost 50/50, although not completely equal yet. The opportunities for girls to excel and expand their knowledge through education in Vietnam is so empowering and important.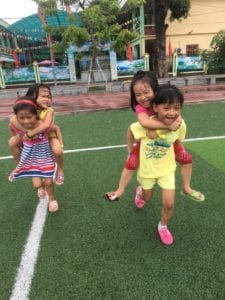 There does however exist gender stereotypes within local society, which was made apparent during the sports day we organised for the local children of the town. We were frankly told by both children and adults that the girls of the group could and would not play soccer, as "girls don't like to run." Everyone in our group was taken aback by this stereotype, however this sentiment appears engrained in society here unfortunately. So while it appears that Vietnam has come a long way in providing quality and equal education for both boys and girls, there remains irreversible gender stereotypes in society. This reality is one shared by countries all over the world however, even in Ireland where a distinct wage gap still exists. In fact, Ireland could probably learn a thing or two from Vietnams' prioritising of quality education, where students (both boys and girls) are motivated, excited and eager to learn and grow.
https://serve.ie/wp-content/uploads/2018/07/2000px-Flag_of_Vietnam.svg_.png
1333
2000
Serve
/wp-content/uploads/2019/11/serve-logo.png
Serve
2018-08-01 08:57:26
2018-08-01 08:57:26
Gender Equality in Vietnam